October 12, 2020
Professor investigates revolution and authorship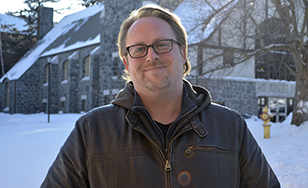 A professor at The College of St. Scholastica with expertise in film history will give a virtual presentation about a long-lost Martin Scorsese documentary later this month.
Dr. Nathan Carroll, professor of Communication, Theater and Art, will present his investigative findings on absence and authorship in relation to Martin Scorsese's "Street Scenes 1970" during the School of Arts and Letters Faculty Colloquium being held via Zoom from 3:30 – 4:30 p.m. on Friday, Oct. 23.
Carroll's presentation will examine these questions: what does it mean when a piece of history disappears? What happens to the participants whose stories are untold? How does authorship play a key role in ensuring that even the smaller stories within larger revolutions are documented and heard?
"Street Scenes 1970" aimed to tell the story and represent individual viewpoints during the anti-Vietnam student strikes that took place on the streets of New York City and Washington D.C. in May of 1970. Scorsese, then a New York University instructor, led a group of film students and professional filmmakers to film the strikes. While cameras were broken and students beat up, the footage was assembled with additional interviews included. That film soon disappeared, only to recently resurface on YouTube.
Carroll's 40-minute talk will be followed by a question-and-answer session. The event is free and open to the public. Visit spotlight.css.edu to register.
Now in its 14th year, St. Scholastica's School of Arts and Letters Colloquium is a monthly lecture series highlighting faculty research in the SAL.