Presidential inauguration coming up Feb. 10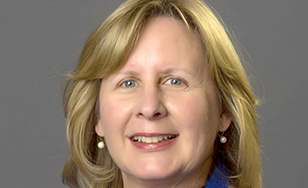 The College will inaugurate its 13th president, Dr. Barbara McDonald, during a ceremony on campus on Feb. 10.
The inauguration will be from 11 a.m. to 12:30 p.m. in the Reif Gymnasium in the Burns Wellness Commons on the Kenwood Avenue campus. Live streaming of the ceremony will be available on the College's main Facebook page. The ceremony will be followed by a reception at 12:30 p.m. in the Burns Wellness Commons Field House.
McDonald began her duties as St. Scholastica's 13th president on Aug. 5, 2019, after retiring from the Minnesota State higher education system. She came to St. Scholastica from North Hennepin Community College in Brooklyn Park, MN, where she had served as president since 2015.
Her career includes extensive experience in teaching, scholarship, administration, and international education.
She earned a Doctor of Education (Ed.D) from the University of Minnesota-Minneapolis in 2002; a Master of Arts in Teaching English as a Foreign Language from the American University in Cairo, Egypt in 1983, and a Bachelor of Arts in English from the University of Colorado-Boulder in 1980.
McDonald's work within the Minnesota State system started at Rainy River Community College in International Falls, MN, where from 1997 to 1999 she taught and served as faculty assessment and service learning coordinator. From 2000 to 2014 she served in various leadership roles in academic and student affairs at Itasca Community College in Grand Rapids, MN, where she was promoted to provost. She then served as interim president for one year at Minnesota West Community and Technical College based in Worthington, MN.
McDonald grew up in Beirut, Lebanon, and early in her career she and her family lived and worked abroad for many years in Africa, Europe, the Middle East, and Asia.
She succeeded President Colette Geary, who announced in January 2019 that she would depart St. Scholastica to spend more time with her family.
The inauguration's organizers are taking steps to make the inauguration reception a sustainable event. It will feature locally sourced food and beverages and single-stream compostable plates and flatware.
The date of President McDonald's inauguration coincides with the Feast of St. Scholastica, a celebration of the College's namesake.
St. Scholastica is nationally recognized for quality and value. It has been named the top Minnesota college for economic mobility, and U.S. News & World Report includes it on its Best National Universities and Top Performers on Social Mobility lists. The College is ranked on Money magazine's "Best Colleges for your Money" list, Princeton Review's 2020 list of Best Midwestern Colleges, and Forbes' Top Colleges list. The Center for First-Generation Student Success has named St. Scholastica one of the top 80 colleges in the country for commitment to first-generation students. Learn more at css.edu.