May 31, 2019
Presidential announcement attracts media attention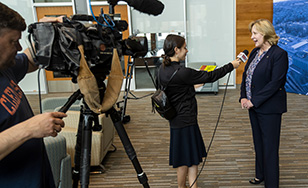 St. Scholastica's announcement that Dr. Barbara McDonald will become the College's 13th president has attracted attention in the local and state media.
Dr. McDonald was introduced to a large crowd of St. Scholastica community members during an on-campus announcement on May 30 in the Benedictine Commons. Among the media outlets that covered the event were the Duluth News Tribune, the Minneapolis Star Tribune, WDIO-TV Channel 10, FOX-TV Channel 21, KBJR-TV Channel 6, Business North, the Catholic Spirit, the Grand Rapids Herald Review, AGB Search, CCX Media, and KDAL-FM. Here is our own highlight video and a photo album from the announcement.
Dr. McDonald will retire from her position as president of North Hennepin Community College in August. She will take over as president of St. Scholastica effective Aug. 5, 2019.