February 7, 2020
President McDonald's Inauguration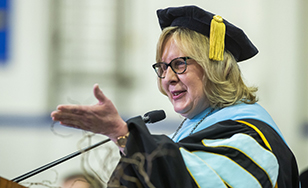 Dr. Barbara McDonald was inaugurated as the 13th president of The College of St. Scholastica in a ceremony on campus Monday, Feb. 10, attended by faculty, staff, students, community leaders and College supporters. There were two photo albums posted to Facebook; access them here and here. The ceremony was covered by WDIO-TV Channel 10, FOX-TV Channel 21 and other local media. Before the ceremony, the Duluth News Tribune posted an editorial about McDonald and her collaborative leadership style. They also posted a series of photos from the inauguration ceremony. KDAL radio and Business North published precedes ahead of the ceremony. Here is a video featuring some highlights from the Eucharistic Celebration and the Investiture Ceremony.
In her inaugural address, McDonald said she seeks to honor the College's past while creating new applications of its mission in the future.
"The great work being done by our faculty, staff and students is building upon the vision of the Sisters of St. Scholastica Monastery," McDonald said. "Hope for the future means we stand tall on the foundation of our heritage and innovate forward, regardless of the challenges that lie before us.
"I am humbled to have been entrusted with the responsibility of moving this remarkable institution into a new decade of leading and learning. The College of St. Scholastica has been a beacon of hope for all who seek out the excellence of a Catholic higher education, one that is shaped by the Benedictine Values we hold so close to our hearts: Hospitality, Community, Stewardship, Respect and Love of Learning …. As we work toward ever-greater levels of academic excellence, we will take our programs to new audiences here in the Northland and around the globe. We will celebrate our excellence, acknowledge our blessings, and take joy in our work. Our compelling mission, our faith in our Creator and in each other, and our love of learning – this is what will drive our work forward."
She talked about a lifelong passion for education that was instilled in her from an early age by her parents and teachers. Her father worked as an engineer in Saudi Arabia and she and her siblings were raised in Beirut, Lebanon and attended the American Community School there.
"We children learned at a young age what a privilege it is to have the gift of learning in our lives, both through the schools we attended and experience we had as expatriates living in the Middle East," McDonald said.
Duluth Mayor Emily Larson, a St. Scholastica alumna, served as the master of ceremonies.
"I am a proud 1995 graduate of this community, and I learned here kindness and compassion, the Benedictine values, in a scholastic community that was challenging and interesting and supportive," Larson said. "I am so proud to be a member of this community today and feel strongly that the world does need more Saints. Today we officially add Barbara to our list."
McDonald was officially installed by Christopher Dolan, a 2001 graduate and current chairman of the College's Board of Trustees.
"In our short time together, the Board has gotten to know Dr. McDonald, and observed that she reflects the best attributes of our Benedictine tradition," Dolan said. "We have full faith in her ability to listen, as the Rule of St. Benedict urges, with the ear of her heart, and to lead decisively for the benefit of all."
The inauguration ceremony was in the Burns Wellness Commons Reif Gymnasium and was followed by a zero-waste reception in the adjacent field house. The reception featured locally sourced food and beverages and single-stream compostable plates, flatware and drinking glasses.
McDonald assumed the duties of president of the 108-year old St. Scholastica on Aug. 5, 2019. Her career in higher education includes extensive experience in teaching, scholarship, administration, and international education. She came to St. Scholastica from North Hennepin Community College in Brooklyn Park, MN, where she had served as president since 2015. McDonald retired from the Minnesota State system in August 2019, after 22 years of service.
During her tenure with the Minnesota State system, McDonald also served as interim president of Minnesota West Technical and Community College in Worthington, MN, from 2014 to 2015. From 2000 to 2014 she served in various leadership roles in academic and student affairs at Itasca Community College in Grand Rapids, MN, where she was promoted to provost. From 1997 to 1999, she served at Rainy River Community College in International Falls, MN, filling the roles of faculty and assessment and service learning coordinator. She was an adjunct faculty member in the Master of Education Cohort Program at the University of Minnesota-Duluth's Extension Program in 1999.
McDonald and her family lived and worked abroad for many years in Africa, Europe, the Middle East, and Asia. McDonald specialized in teaching English as a Second Language. She was the ESL Program Director and ESL Instructor at the Western Academy of Beijing in Beijing, China from 1995 to 1997, and served as an ESL Consultant in Manila, Philippines and Johannesburg, South Africa from 1989 to 1994. Between 1986 and 1989 she held ESL faculty positions at Yonsei University in Seoul, South Korea, at Central Texas College on the U.S. Military Base in Seoul, and at the American University in Cairo, Egypt.
While with the Minnesota State system, McDonald was a member of the Leadership Council and served on the Executive Leadership Committee, the Chancellor's Transition Team, and several statewide committees. McDonald also chaired the presidential search committee for Lake Superior College in Duluth in 2018-19.
She is an actively engaged community member, currently serving with the Arrowhead Growth Alliance of Duluth, on the Board of Minnesota Campus Compact, and as an Advisory Board member of the Center for Innovation and the Arts. She has also served on the Itasca Economic Development Board, the Grand Itasca Hospital and Clinic Board, the Reif Performing Arts Board, Twin West Chamber Foundation Board, the North Hennepin Chamber Board, the Brooklyn Bridge Alliance for Youth, and the Minnesota Learning Network Board – University of Minnesota and Minnesota State. A Catholic, she also served on the Parish Council of St. Joseph's Catholic Church in Grand Rapids, MN.
McDonald earned a Doctor of Education (Ed.D) from the University of Minnesota-Twin Cities in 2002 and a Master of Arts in Teaching English as a Foreign Language from American University in Cairo, Egypt, in 1983. She started her undergraduate journey at The College of St. Scholastica and finished with a Bachelor of Arts in English from the University of Colorado-Boulder in 1980.
McDonald succeeded President Colette Geary, who announced in January 2019 that she would depart St. Scholastica to spend more time with her family.
The inauguration date coincides with the Feast of St. Scholastica, a celebration of the College's namesake.
Festivities began Sunday night with a Mass service at Our Lady Queen of Peace Chapel.