June 3, 2019
Polar explorer to keynote conference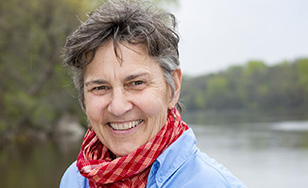 A world-renowned polar explorer will share her inspiring story during The College of St. Scholastica's annual conference for educators later this month.
The 9th annual 21st Century Teaching and Learning Conference will be held Tuesday, June 18. Ann Bancroft, polar explorer, educator and lecturer, will provide the keynote address: "Dare to Dream: The Power of Teaching." Her address will begin at 8:30 a.m. in the Mitchell Auditorium on campus.
Bancroft is one of the world's pre-eminent polar explorers and an internationally recognized leader dedicated to sharing stories from her expeditions to inspire youth and people around the world to follow their dreams and create change.
She is the first known woman to have crossed the ice to both the North and South Poles, led the first American women's crossing of Greenland east to west, and became the first woman to ski across the continent of Antarctica with Norwegian explorer Liv Arnesen.
Her expeditions have been featured by media outlets around the country and the world, including the BBC, CNN, National Public Radio, Time, People, USA Today, National Geographic, Outside and Sports Illustrated for Kids. Bancroft is currently serving on the Wings World Quest and Ann Bancroft Foundation board of directors, is a judge at the Nuclear Free Future Awards annually and is a spokesperson for Wilderness Inquiry.
The Teaching and Learning Conference will offer a day filled with opportunities for networking and making connections with leaders in the field of education, along with breakout sessions designed to meet MED relicensure strands. The day's activities are relevant for anyone interested in education, from K-12 teachers to higher education faculty, college students or other learning practitioners. Presentations will include hands-on workshops and research-based best practices in teaching, learning and leading.
The registration fee is $99.