July 29, 2019
Placing a greater emphasis on vocation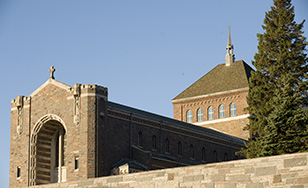 St. Scholastica has been awarded $47,832 to enhance students' understanding of the meaning of "vocation" and how it fits into their future careers and lives.
A career term with a broader theological scope, vocation is often defined as a calling or a life's purpose. The two-year NetVUE Program Development Grant award from the Council of Independent Colleges (CIC) is funding St. Scholastica's "Values in Action" initiative through April 30, 2021. This project aims to increase faculty, staff and student understanding of vocation and its relationship to the College's mission and values. It creates opportunities for vocational reflection and develop language around the idea of "calling and purpose" to be used throughout the institution.
"As theologian Frederick Buechner wrote, vocation can be described as 'the place where your deep gladness and the world's deep hunger meet,'" said Associate Vice President for Mission Integration Sister Kathleen Del Monte. "This grant will enable the College to further efforts to provide a holistic experience for students, addressing the needs of body, mind, heart and soul, a perfect alignment with our rich Catholic Benedictine heritage."
The College's mission of preparing students for responsible living and meaningful work
is a call to help students to envision a whole life (work, family, and civic engagement) that
integrates values promoting human dignity and wholeness.
The Values in Action project's main activities are:
To broaden vocational exploration in the College's Dignitas program for first-year students
Add/expand vocational exploration in the Saints Leadership program for sophomores, juniors and seniors
Expand faculty/staff vocational retreats and follow-up sessions
Develop an online mission retreat for faculty, staff and students
Create a task force to develop consistent language around vocation to be used across the institution.
Representatives from Campus Ministry, Career Services, Mission Integration and Student Affairs are leading the project. NetVUE Program Development Grants are made possible thanks to generous financial support to the CIC by Lilly Endowment Inc.