November 22, 2019
Philosopher examines toughness versus strength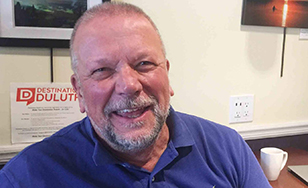 A philosophy professor will examine the differences between toughness and strength, as well as what we can learn from them, during an upcoming free talk at St. Scholastica.
Steven Ostovich, PhD, chair of the College's Philosophy department, will present "Tough or Strong" at 3:40 p.m. Friday, Dec. 6, in room 4119 of Tower Hall. The event is free and refreshments will be served.
The words "toughness" and "strength" are often used interchangeably, Ostovich says, but he will argue that distinguishing between the two is not only possible but desirable. Each concept has its own contextual value.
Expect to hear from history's greatest philosophers as Ostovich responds to the question, "Tough or Strong?" His 40-minute talk will be followed by a question-and-answer session.
Now in its 13th year, St. Scholastica's School of Arts and Letters Colloquium is a monthly lecture series highlighting faculty research in the SAL.