April 16, 2019
Phillips Scholar starts leadership program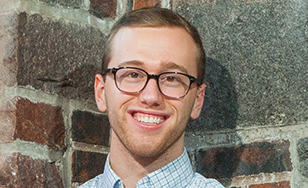 Our student body president is creating a leadership training program for middle school students, and local youth are invited to apply.
Junior Andrew Bailey is the latest in a long line of St. Scholastica students to be awarded the Phillips Scholarship, which recognizes leadership in community service.
The Jay and Rose Phillips Family Foundation awards $16,500 scholarships to outstanding students at Minnesota's private colleges who intend to dedicate a portion of their lives to community service. Seventeen St. Scholastica students have received the highly competitive Phillips Scholarship in the 24-year history of the program. Scholarship recipients design and implement an eight-week community service project during the summer before their senior year.
Bailey has created a leadership training program for rising seventh- and eighth-graders. Applications are now being accepted for the The Duluth Area Leadership Conference, which will take place June 14-15 on the St. Scholastica campus. The program's mission is to promote leadership development among youth scholars by empowering them to become leaders in their schools and communities.
Bailey said he's grateful for the support and encouragement he's received for this project, and excited to see it come to fruition.
"The Duluth Area Leadership Conference is the first of its kind to take place in the Duluth area," Bailey said. "Rising seventh- and eighth-grade students will learn fundamental leadership traits, high school students from the area will support in the planning and execution of the conference, and college students will help serve as volunteers and group leaders. We are building a bridge for leadership development in the Duluth community, and the conference is 100% free for all scholars, as we hope to reach students who may not usually be able to access this type of opportunity."
Students will take part in leadership sessions, set goals, and hear from motivational guest speakers. They'll have a chance to tour St. Scholastica's campus and enjoy group activities and games. Housing and meals are provided throughout the conference. Participants are urged to sign up as soon as possible, as space is limited. Registration closes on May 1. Applications are being accepted at: https://sites.google.com/css.edu/dalc2019. For more information, contact DALC2019@gmail.com or 207-446-9414.