June 1, 2020
Nursing faculty member wins award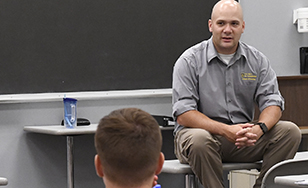 The Duluth News Tribune has released its list of Florence Award winners for excellence in nursing, and the majority of the award recipients have a connection to The College of St. Scholastica. The winner of the top overall award is an instructor in the School of Nursing.
Assistant Professor Greg White won the Florence Award, named for trailblazing nurse Florence Nightingale.
"Receiving this award was surprising to me," White told the Duluth News Tribune. "I don't do what I do for recognition. But it represents that what I do matters."I've always been surrounded by amazing teammates and mentors, and I've done none of this alone. And it helps that I have the world's most supportive wife."
The Florence Award is given to an individual who shows strong leadership, empathy, innovation, and commitment to mission. He is the Veteran Faculty Lead and Clinical Liaison for St. Scholastica's Veteran to BS in Nursing Program. He serves as the advisor and clinical instructor for cohorts of Veteran and service-connected nursing students throughout their entire academic progression in the Undergraduate Nursing Program. He's also working on his doctorate in nursing at St. Scholastica, and coaches the College's rugby teams.
He is a nurse practitioner at CMH Raiter Family Clinic in Cloquet. He's also a member of the Air National Guard and has experience in multiple roles including pre-hospital, flight and military medicine, emergency and critical care nursing, and nursing education and leadership.
White is an inductee and active member of Sigma Theta Tau International Honor Society of Nursing, and holds certification in Family Nurse Practice from the American Association of Nurse Practitioners (AANP), of which he is also a member.
The winner of the Empathy Award is Cheryl Frost Anderson, registered nurse and clinical site manager for Regency Home Healthcare. She received her bachelor's in nursing from St. Scholastica in 1985. The award honors a nurse who has a great ability to understand patients' thoughts and emotions.
Theresa Flesvig, who earned her bachelor's in nursing from St. Scholastica in 2006, received the Innovation Award, given to a nurse who has taken steps to improve a process or program for increased efficiency and effectiveness. Flesvig is a Sexual Assault Nurse Examiner at Program for Aid to Victims of Sexual Assault.
Krista Kaas, who earned an MBA from St. Scholastica in 2015, received the Mission Award, given to an individual who has gone above and beyond the scope of their everyday duties. Kaas is a ST-Elevation Myocardial Infarction Specialist and teaches Mindfulness-Based Stress Reduction at Essentia.
For more information about the Duluth News Tribune's Florence Awards, view this special section. It features interesting historic photos and information about our nursing programs, which date back to 1928, and a profile of an alum who is now serving in the Army National Guard.