March 11, 2021
Northland colleges to celebrate women in leadership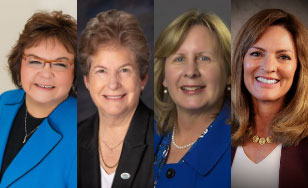 St. Scholastica has partnered with Fond du Lac Tribal and Community College, Lake Superior College and the University of Wisconsin-Superior to celebrate women leaders in higher education.
In honor of International Women's Day, President Barbara McDonald will join Presidents Stephanie Hammitt of Fond du Lac, Patricia Rogers of Lake Superior College and Chancellor Renée Wachter of UW-Superior for a roundtable discussion from noon to 1 p.m. on Wednesday, Mar. 17 via Zoom. The event is free and open to the public.
Sarah Lyons, Executive Diversity Officer at Lake Superior College, was inspired to organize the event after learning that only 30% of college and university presidents nationwide identify as female. In the face of this trend, the Northland represents a noteworthy anomaly: four of its six institutions of higher education have women in leadership positions.
Lyons hopes the roundtable discussion will offer the community the chance to engage in enriching conversations and to recognize the intersectionality of women's identities beyond gender. "Women empowering women is a beautiful thing," she shared.
For more information, go to css.edu/calendar.