October 1, 2020
New learning space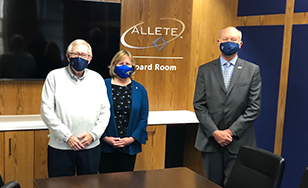 The College is celebrating the opening of a special new learning space: the ALLETE Board Room in the Stender School of Business and Technology.
Situated on the third floor of Tower Hall, the room includes state-of-the-art videoconferencing technology ideal for hybrid teaching and for hosting remote speakers and meetings. Faculty and students will use the ALLETE Boardroom for classes and meetings, conferences and student collaboration. A special focus is to provide educational programming on the role of boards in best-practice public company and nonprofit governance.
"Most of our students will go on to work with a board of directors or serve on one," said Rick Revoir, Dean of Strategic Development. "The ALLETE Board Room looks and feels like a boardroom and will be used to help students understand the role of a board and learn about what good governance looks like for both nonprofit and for-profit entities. The ALLETE Board Room is an incredible investment in our students and in the College, and will help us educate and develop future generations of leaders."
ALLETE is a Duluth-based energy company. Attending a Sept. 17 celebration of the new space were Al Hodnik, Chairman of ALLETE, and Bruce, Kaye and Mimi Stender. Bruce Stender is a former president of the College and former longtime member of the ALLETE Board, including terms as board chair and lead director. The School of Business and Technology is named in his honor. Mimi Stender is Bruce and Kaye's daughter-in-law and serves on the St. Scholastica Board of Trustees.
As part of a gift to the Stender School of Business and Technology, ALLETE is recognizing the significant impact that Bruce Stender has had, Hodnik said.
"During his time on the ALLETE board of directors, Bruce instilled a new level of best-practice governance," Hodnik said. "We are honored to recognize Bruce and his tremendous impact on ALLETE through this gift and we hope this new boardroom space will help a new generation of leaders learn more about the importance of good governance while further bolstering the great work on ethics advanced at CSS through the Sandbulte Chair."
In addition to his time with ALLETE and serving as St. Scholastica's ninth president, from 1974 to 1981, Stender served as president and chief executive officer of Duluth-based Labovitz Enterprises Inc, and as a trustee of the Blandin Foundation and Trust.
Revoir said St. Scholastica is fortunate to have had a strong partnership with ALLETE for many years.
"Their executives have served on our Board of Trustees over the years, including Arend Sandbulte, Deb Amberg and others," he said. "They have spoken in our classes. Their employees are students with us and they hire our students for internships and full-time positions. Plus, they provide us with reliable power! The College is so fortunate to have a deep, long standing partnership with ALLETE."
The Stender School of Business and Technology has a speaker series about business ethics named after Arend Sandbulte, a former ALLETE board chairman who also served as chair of St. Scholastica's Board of Trustees. The first speaker in this year's Sandbulte Center for Ethical Leadership Series was Deb DeLuca, Executive Director of the Duluth Seaway Port Authority. She delivered her speech from the new ALLETE Boardroom while students and faculty viewed it remotely through Zoom on Oct. 1 .