September 11, 2019
Musical ensembles present Prism concert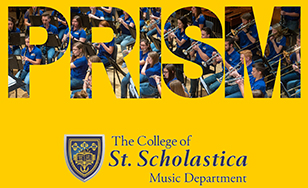 St. Scholastica's musical groups will team up to present a free performance at 1 p.m. Saturday, Sept. 21 in the Mitchell Auditorium.
The College will celebrate Homecoming 2019 from Sept. 16-21, and the Prism Musical Ensembles Showcase concert has become part of its annual homecoming tradition. Faculty members will join instrumental and choral ensembles to present a wide spectrum of music. Join the St. Scholastica community for a fast-paced kaleidoscope of sound.
Admission is free, and this event is open to the public.