January 10, 2019
Music unheard for more than 350 years to be played live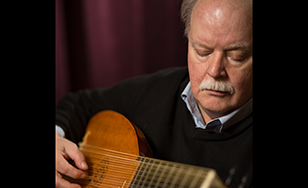 A performance combining lute and voice at St. Scholastica will feature recently discovered music that hasn't been played in 350 years.
Intimate Music for Lute and Voice will be performed at 7:30 p.m. Saturday, Jan. 26, in the Mitchell Auditorium on the College's Duluth campus.
Longtime lutenist Edward Martin will perform solo baroque lute songs and songs with tenor voice featuring singer William Bastian, a former St. Scholastica music faculty member. Martin will perform works of composer David Kellner, from the last printed book of lute music (Hamburg, 1747) published prior to the 20th century. He will also premiere, for the first time in 350 years, newly unearthed works of composer Johannes Fresneau. It is the only remaining lute music from the Dutch baroque period.
The lute is a stringed instrument with a neck and a deep, round back, and is used in a variety of music from the Medieval to the late Baroque eras.
Tickets are $10 and may be purchased through the Spotlight Box Office at spotlight@css.edu or 218-723-7000.
The rest of the 2018-19 Music Department concert schedule includes:
Hands and Hammers percussion and piano collaboration, 7:30 p.m. Feb. 5
All Things New by Twin Ports Choral Project, 7:30 p.m. Feb. 22
Zenith City Sings Choir Festival, 7:30 p.m. March 21
Bring the Sing choir-led community sing-along, 10 a.m. March 23
Graced by Groove percussion ensemble concert, 7:30 p.m. March 30
Vocal Revolution: Voices Only a cappella concert, 3 p.m. April 14
For Most this Amazing Day choir concert, 7:30 p.m. April 26