September 6, 2018
Mueller appointed new Vice President for College Advancement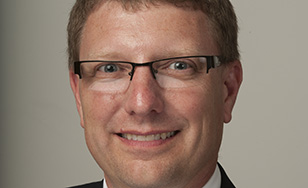 St. Scholastica has announced the appointment of Chris L. Mueller as Vice President for College Advancement. He will oversee St. Scholastica's strategic operations in advancement, which includes fundraising, alumni engagement, and foundation and government relations.
Mueller comes to St. Scholastica from the University of Wisconsin-River Falls, where he served as Assistant Chancellor of University Advancement and President of the University of Wisconsin-River Falls Foundation. In those roles since 2011, he led all aspects of fundraising, alumni relations, financial management, and foundation operations. He managed a portfolio of leadership gift prospects and served as a member of the Chancellor's Cabinet. He conceived of and led the university's first-ever fundraising campaign, which raised $21.9 million, $1.9 million over goal. His department raised more than $10 million for scholarships. In 2018, UW River Falls was recognized by the Council for Advancement and Support of Education with fundraising awards for Overall Fundraising Improvement and Overall Fundraising Performance.
Prior to his work at UW-River Falls, Mueller served as Executive Director, Resource Development at Western Carolina University in Cullowhee, NC, from 2008 to 2011, where he implemented key components of a comprehensive fund-raising program including managing a portfolio of gift prospects, providing counsel to colleges and units on development initiatives, and organizing and leading a prospect identification effort in advance of the university's next comprehensive campaign. Before that, he served as a client consultant at Stamats Inc. of Cedar Rapids, IA, and as Vice President for Institutional Advancement at Briar Cliff University in Sioux City, IA.
"Chris Mueller has consistently elevated the aspirations of institutions he has worked for, and then led their growth to realize their enhanced vision," said President Colette Geary. "He demonstrates an insightful appreciation of St. Scholastica's mission and a perceptive approach to engaging and growing our college's group of loyal supporters in the service of our strategic plan."
Mueller earned a Master of Business Administration degree from the University of South Alabama in Mobile, AL, and a Bachelor of Science degree from Stephen F. Austin State University in Nacogdoches, TX. He has presented on advancement and fundraising best practices at numerous conferences hosted by the Association of Governing Boards, the Council for Advancement and Support of Education, and Stamats.
He said he is eager to begin his duties on Sept. 17.
"I am greatly looking forward to joining the St. Scholastica community. It is a unique opportunity to join a vibrant and growing college and leadership team," Mueller said. "St. Scholastica's Catholic Benedictine values of respect, stewardship, community, hospitality, and the love of learning are universal in forming the basis of effective relationships that are at the heart of advancing St. Scholastica's mission and strategic goals."