November 27, 2018
Messiah Sing-Along returns for 38th year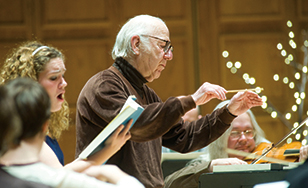 Members of the public are invited to join a few hundred of their closest friends to lend their voices to Handel's epic "Messiah" as part of a traditional Christmas event hosted by St. Scholastica at 7:30 p.m. Dec. 11, in the Mitchell Auditorium on campus.
This marks the 38th time the College has hosted this event. The St. Scholastica Center for Early Music Orchestra, under the direction of music department emeritus faculty member Shelley Gruskin, will provide accompaniment as audience members provide the vocals.
There is no admission charge for this event. Participants may bring their own music score or purchase one at the door for $15. For more information, contact the Spotlight Box Office at 218-723-7000, spotlight.css.edu or spotlight@css.edu.
The rest of the 2018-19 Music Department concert schedule includes:
O Holy Night Concert, 7:30 p.m. Dec. 14 and 15 at the Cathedral of Our Lady of the Rosary, 2801 E. Fourth St.
High School Honor Band Concert, 5 p.m. Jan. 21, 2019
Hands and Hammers percussion and piano collaboration, 7:30 p.m. Feb. 5, 2019
All Things New by Twin Ports Choral Project, 7:30 p.m. Feb. 22, 2019
Zenith City Sings Choir Festival, 7:30 p.m. March 21, 2019
Bring the Sing choir-led community sing-along, 10 a.m. March 23, 2019
Graced by Groove percussion ensemble concert, 7:30 p.m. March 30, 2019
Vocal Revolution: Voices Only a cappella concert, 3 p.m. April 14, 2019
For Most this Amazing Day choir concert, 7:30 p.m. April 26, 2019
Eastern Winds concert band and jazz ensemble concert, 2 p.m. April 28, 2019
Music for a Festival, string and chamber ensembles, 7:30 p.m. April 30, 2019