November 26, 2019
Messiah Sing-Along coming up Dec. 10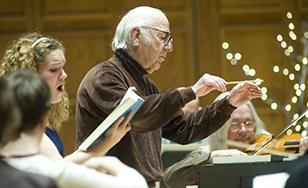 Fans of Handel's "Messiah" are invited to raise their voices in song to celebrate the Christmas season during a favorite community event at St. Scholastica.
The 39th annual Messiah Sing-Along will be at 7:30 p.m. Tuesday, Dec. 10, in the Mitchell Auditorium on campus. The entire audience sings the iconic oratorio, and St. Scholastica's Center for Early Music Orchestra provides the accompaniment. Shelley Gruskin, music department emeritus faculty member, directs this holiday sing-along.
Admission is free. Bring your own score, or buy one at the event.