April 25, 2018
McCoo appointed new VP of Human Resources, CDO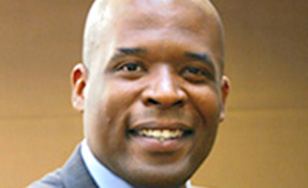 St. Scholastica has announced the appointment of Myron S. McCoo as Vice President for Human Resources and Chief Diversity Officer.
McCoo comes to St. Scholastica from University of Cincinnati (UC) Health, an 11,000-employee academic medical system in Ohio, where he has served as Assistant Vice President of Human Resources and Corporate Diversity Officer. In that role, he provided human resources operational and executive oversight for the three inpatient hospitals, as well the ambulatory sites that make up UC Health. While at UC Health, he developed and implemented human resources strategies to ensure that overall objectives were achieved. In addition, he provided oversight of Office of Federal Contract Compliance Programs and administration of affirmative action plans.
Prior to his role at UC Health, McCoo served as a human resources executive for the Yale New Haven Health System (Bridgeport Hospital) in Connecticut. This position included providing services in the areas of benefits, compensation, employee development, and human resources information systems, as well as investigating and resolving internal harassment and discrimination complaints brought by employees. Before that, he served as Vice President for Human Resources at Dartmouth College.
"Myron McCoo not only brings impressive experience in human resources, he also has substantial experience working with diversity initiatives and has a keen understanding of our commitment to inclusive excellence," said St. Scholastica President Colette Geary. "He has implemented successful strategic diversity plans across organizations, and has been widely recognized for his outstanding communication skills and proactive management style."
McCoo holds a Juris Doctorate from Indiana University in Bloomington, IN, a Master's in Theological Studies from Harvard University, and a Bachelor of Arts in Government from the University of Texas in Austin, TX. He is a member of the Society of Human Resources Management, the National Association for the Advancement of Colored People, and the National Bar Association.
"I am delighted to have the opportunity to serve The College of St. Scholastica," McCoo said. "From the moment I arrived in Duluth, as well as on the campus, there was an incredible sense of community. I feel as though I am joining The College of St. Scholastica at a time that I can make a meaningful difference both in human resource administration, as well as advance the College's commitment to inclusive excellence."
He assumed his duties on April 23.