June 22, 2021
Master of Social Work program

receives $1.3 million to reduce disparities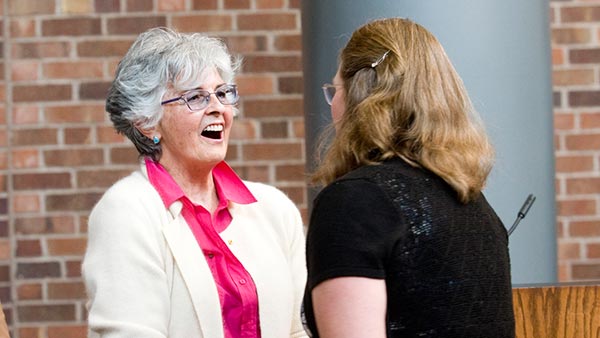 The College of St. Scholastica has been awarded $1.3 million in funding for the Behavioral Health Workforce and Education Training project (BHWET). This federal grant, provided by the Health Resources Services Administration (HRSA) will prepare Master of Social Work students to practice and seek employment in rural and underserved clinical sites in northeastern Minnesota communities.
The funding is a continuation of the College's current BHWET grant with an expanded focus on the needs of children, adolescents and transitional-aged youth at risk for behavioral health disorders, as well as substance abuse and violence.
Dr. Shelly Smart, social work department chair and project director, said the grant will bring the College's social work students into underserved communities where behavioral health services are most urgently needed.
"Our hope is that, post-pandemic, we can really have an impact," said Smart. "This grant will allow us to build upon our current outcomes, but also lean into substance abuse and trauma prevention, especially with children who are at risk."
The four-year grant's objectives include increasing technology integration and telehealth, strengthening the integrated care workforce and providing professional development opportunities to MSW field supervisors. In addition, cohorts of 20 students will receive a $10,000 stipend in their final year if they complete a longitudinal placement in an underserved community. Smart noted that underrepresented students living in rural areas will take priority.
The College is one of 56 recipients to receive BHWET funding for the 2021 fiscal year.
About the Master of Social Work Program
Building on the academic excellence of our Bachelor of Arts in Social Work program, the Master of Social Work (MSW) program prepares graduates to address individual needs in advanced clinical practice, equipping them with skills for influencing social policy. The curriculum emphasizes the skills of advanced clinical practice and is offered in a flexible blend of on-campus and online educational experiences. Students can choose from two distinct tracks: a regular track for those with a bachelor's degree in another field and an advanced standing track for those with a bachelor's degree in social work. Social Work remains an in-demand field in Duluth and much of greater Minnesota. Learn more at css.edu/msw.
Acknowledgment statement
This project is supported by the Health Resources and Services Administration (HRSA) of the U.S. Department of Health and Human Services (HHS) as part of an award totaling $1,333,332 with zero percentage financed with non-governmental sources. The contents are those of the author(s) and do not necessarily represent the official views of, nor an endorsement, by HRSA, HHS, or the U.S. Government. For more information, please visit HRSA.gov.