March 22, 2022
March 18 Safe Return update
Dear Colleagues,
I hope this finds you well as we come to the end of our spring break. We are moving into the last half of the semester, excited for spring weather and looking forward to commencement in about eight weeks from now. Thank you for all you are doing to engage in this year's value, Love of Learning!
As we continue to make adjustments to our COVID protocols, our SafeReturn website has been updated with the following key messages:
Well-fitted masks are encouraged, but not required for indoor spaces at the Duluth main and St. Cloud campuses.

Saints vax up! The COVID-19 vaccination and booster series has been added to the list of required immunizations for students who are participating in in-person curricular and co-curricular activities.

Students who participate in solely online or remote programs and/or students who are participating in studies at our embedded site locations are exempt from this requirement.

In keeping with our immunization community standards, students may submit an exemption form to Student Health Service; all exemptions will be accepted.

Students and employees who were participating in weekly testing efforts are now only required to test if symptomatic/exposed.  

In the event that our community level changes or we experience significant transmission on campus, mitigation protocols including masking and testing may be reinstated.
Disposable masks
As a Benedictine community, we respect each individual's choice under the "mask optional" protocols.  Faculty and staff may require  visitors to personal office space to mask.  The faculty and staff who do request this of visitors will need to provide masks.  The College currently has a limited supply of disposable face masks available for faculty and staff to have on hand for use in their personal office. Due to the limited supply, we will offer 10 disposable masks per request until the supply runs out. These can be picked up at the Facilities Services Department on the 2nd floor of Tower Hall Monday-Friday between 7:30 a.m.-4 p.m.  For those at extended sites, please contact Mike Turner to make arrangements.
JED Campus
Did you know we are one of only six schools in Minnesota to be engaged in Jed Campus? Congratulations to all of our JED Teams for prioritizing the mental health and well-being of our students!
Feast of St. Benedict
Each year we hold a special retreat as one way to honor and celebrate St. Benedict, the founder of what would become the Benedictines, and whose Feast Day is March 21. We invite you to participate in this year's online retreat on the value of the year, Love of Learning, March 20-26. A self-paced retreat in three parts, the retreat will feature discussion boards, videos, quotes and questions for reflection.
It is our hope that this retreat will offer timeless wisdom from our Catholic Benedictine tradition that speaks to where each of us finds ourselves in this time. Each of us brings our unique perspective to this space of learning and renewal. Centered on voices of a few of our Benedictine Sisters, an ecumenical Christian book, and conversations among our own diverse community, we hope to consider how this wisdom speaks to each of our personal spirituality and worldview. May we find grounding in slowing down, staying put, listening well, and allowing ourselves to be changed. Let us journey together!
Undergraduate and graduate students, alumni, staff, faculty and Sisters are all welcome and encouraged to participate together to better learn from one another. To register for the retreat, please complete this form.
We hope you will join us!
Hello from Orlando!
The 2022 HIMSS Conference has been a great event for the HIIM Department and SSBT. We sponsored the Emerging Healthcare Leaders Reception, assisted with resume and LinkedIn Reviews, presented (David Marc and Eric Nordgren on workforce development, titled "The HIT Workforce: Finding Success Through Connections" ), and have had many excellent conversations with industry partners and leaders. A few days in sunny Orlando have felt great too! 
Spring Community Day recap
Despite the snowstorm, we had some really nice success stories from our Spring Community Day! Thanks to Mary Anderson and Jessica Ellingson for sharing this overview: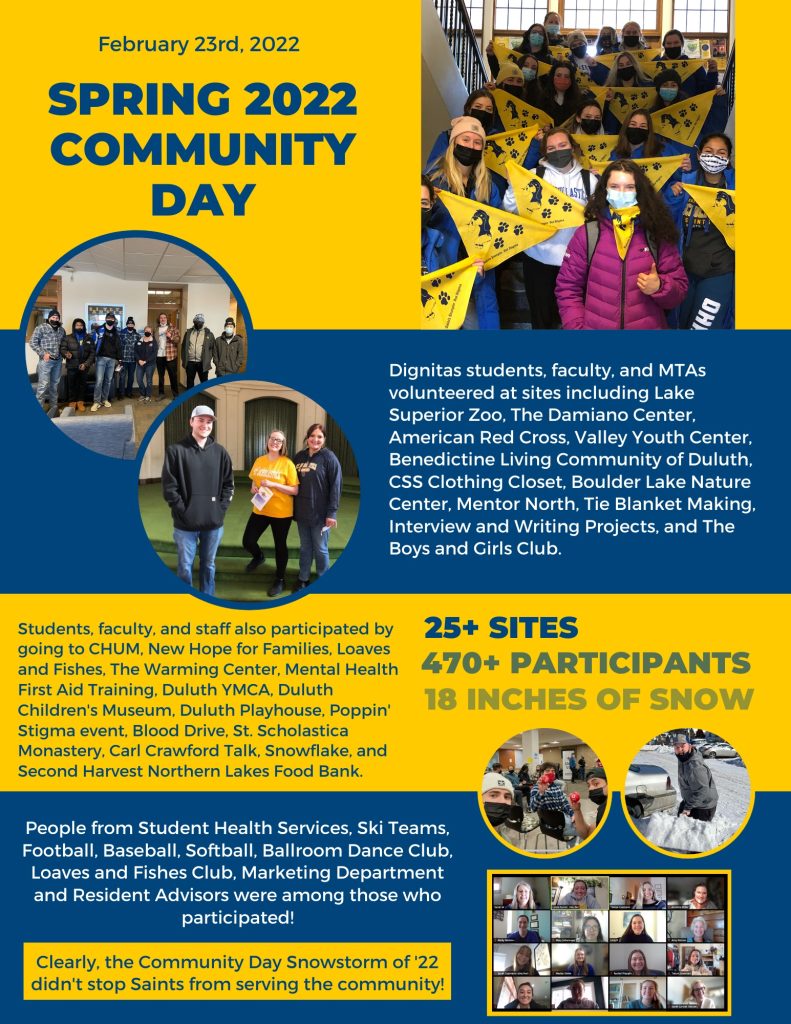 Enjoy the weekend ahead, stay safe and be well! We are blessed to have each of you as part of our CSS family!
Sincerely,  Barbara