June 7, 2019
Love of learning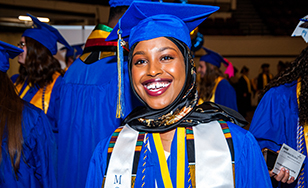 A recent graduate has won a prestigious fellowship with the National Science Foundation's Graduate Research Program.
Chemistry major Nafisa Ibrahim of Eden Prairie, MN, will receive a three-year annual stipend along with an allowance for tuition and fees, opportunities for international research and professional development, and the freedom to conduct her own research. She was accepted to several doctoral programs, and will attend the University of Illinois, Urbana-Champaign.
"I put extensive work into the application, so it feels wonderful to be recognized," Ibrahim said. "With the NSF Graduate Research Fellowships Program (GRFP), I have bit more freedom to explore research topics I would not otherwise be able to if I was on a teaching assistantship or research assistantship. While teaching as a graduate student is a great experience for future professors, it takes away from being able to do more research, so in that sense, especially as a first-year graduate student, I can focus on classes and research."
During her time at St. Scholastica, Ibrahim was a TRIO McNair Scholar, a Clare Boothe Luce scholar, and a participant in the S-STEM program on campus. McNair Scholars inspires and empowers undergraduate students to succeed in research, doctoral study, and advanced careers. The Clare Boothe Luce Program encourages female students to pursue science and math careers. The S-Stem Scholarship Program encourages interdisciplinary learning in science, math and computing.
Ibrahim is the first undergraduate McNair Scholar at St. Scholastica to win a NSF graduate Research Fellowship. She has conducted multiple research projects in chemistry and chemical engineering at St. Scholastica and at the University of Wisconsin Madison and Vanderbilt University.
Ibrahim said she had received "magnificent" support on campus from TRIO program staff members, the Office of Equity, Diversity and Inclusion, the School of Sciences, and her professors, particularly former Chemistry professor Dr. Allen Chaparadza.
"I was so comfortable on campus and was able to grow immensely with the many interactions with students, faculty, and staff," she said. "I definitely could not have figured out what I wanted to do if Dr. Chaparadza did not help me reflect about my goals for the future and introduce me to research. He has been a wonderful mentor who has helped me realize my potential and always pushes me to strive for the best."
Ibrahim first became interested in chemistry because it was a difficult subject for her in high school. She decided to rise to the challenge.
"My Honors Chemistry class was frustrating, demeaning and dreadful," she said. "However, my teacher, Carol Snyder, encouraged me to pursue the subject as my math skills were exemplary, which prompted me to register for her class. Her enthusiasm and fascinating way of teaching gave me a newfound passion for chemistry and everything it offered."
Ibrahim ended up tutoring students in science and math, and during her time at St. Scholastica, she worked as a chemistry teaching assistant. She has developed a specific interest in materials chemistry.
"It is an area of chemistry that addresses global challenges like energy, sustainability and cleaner environments," she said.
Ibrahim will no doubt go on to inspire the next generation of students just as her own mentors did – her long-term career goal is to become a professor.