July 2, 2019
Living and learning together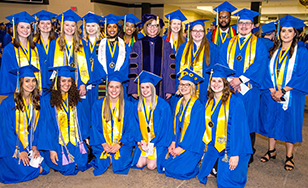 St. Scholastica's Honors Program will launch a special housing, academic and lifestyle option for Honors students this fall.
The Honors Living and Learning Community will offer high-achieving students the opportunity to live together, in proximity to students who are similarly interested in academically challenging opportunities.
"This cohort of 60-plus Honors students can be a source of new friendships that can positively shape the students' entire St. Scholastica experience," said Stephanie Johnson, director of the Honors program and associate professor of English. "Amenities and customized programming will enhance both their studies and their living environment. Specialized classes and aligned co-curricular activities will help produce a more intentional community that sets up Honors students for success."
The Honors Living and Learning Community will be in the newly renovated Somers Hall, the residence hall for first-year students. Among the features:
A residential adviser who is also in the Honors program and will serve as a mentor;
A multi-layered support system for social and academic success and satisfaction;
Classroom and lounge space for group gatherings of all first-year Honors students;
Opportunities for informal study sessions or a continuation of class discussions;
Advisement for sophomore course registration in the residence hall;
Interaction with faculty outside the classroom.
Special programming will include:
A fall kickoff party with faculty and students;
Social events, such as movie nights, pizza and trivia with faculty; and Food-for-Finals in the lounge;
Talkbacks/discussions after Dignitas common experiences;
Upper-class student panels on internship opportunities and major application processes.
The Honors Program at St. Scholastica provides an environment for participants to enjoy enriched learning experiences and to provide a community of support for learners devoted to a vigorous life of the mind. The Honors Program achieves these goals by providing a supportive setting for the unique social and academic needs of these students.
Honors courses provide challenging learning experiences, investigate compelling and controversial ideas, and require students to take charge of their learning by being actively engaged in the learning process. Honors faculty members act as intellectual mentors for students, serving as role models of academic rigor, critical reflection and analysis, and the integration of ideas from different disciplines. Faculty members who teach in the Honors Program also function as academic advisors to Honors students.
To qualify for the Honors Program, students generally must meet two of the following three requirements: rank in the top 15 percent of their high school graduating class; graduate from high school with a cumulative GPA of 3.5 or higher; and post a minimum score of 26 on the ACT examination. To graduate from the program, students must complete 20 credits of Honors coursework (eight credits of which must be upper-division), achieve a minimum grade of B in each of those courses, and have a cumulative GPA of a 3.5 upon graduation from the College.