June 25, 2018
Liberal arts leader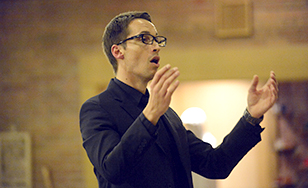 The College has appointed Bret Amundson, DMA, as Dean of its School of Arts and Letters.
Dr. Amundson joined the St. Scholastica faculty in 2010 as assistant professor of Music and director of Choral Activities. He was appointed director of General Education in 2015 and promoted to associate professor in 2018.
Amundson earned a doctorate of musical arts in choral conducting from the University of Washington; a master of music in choral conducting from St. Cloud State University; and a BA in vocal music education and performance from Saint John's University in Collegeville. He is currently completing the program of studies leading to the MBA in Leadership and Change at St. Scholastica.
"The faculty, staff, and students in the School of Arts and Letters and around the College are a huge source of inspiration, joy, and energy for me," Amundson said upon his appointment. "The School of Arts and Letters plays a major role in fulfilling the College's distinctive academic mission of liberal education in the Catholic Intellectual Tradition."
The School of Arts and Letters offers more than 20 degree programs with areas of study that include history, communications, political science and theology. Its newest majors are Health Humanities and Sustainability Studies and the Environment.
Amundson is both a music scholar and a student-centered professor, taking a holistic view of his students and working to establish connections with them. As Director of Choral Activities, Amundson oversaw all aspects of the College's Choral Program, including four vocal ensembles: The St. Scholastica Concert Choir, Bella Voce, CSS Women's Choir, and the Vocal Revolution. He organized and led numerous choir trips both nationally and abroad.
As director of the College's first-year program, Dignitas, he coordinated the integration of academic affairs and student affairs learning initiatives and worked closely with faculty and staff to develop Veritas, the College's general education program.
Amundson has created a presence for the College music program in the Twin Ports and has successfully secured grant funding for community collaborations. The choirs have been invited to perform with the Duluth Superior Symphony Orchestra, and Bella Voce was invited to sing at the 2017 American Choral Directors Associations' State Conference. His community partnerships also include the annual "Still I Rise" concert, which benefits local non-profits. He also serves as Artistic Director for a number of local youth choirs, including the Lake Superior Youth Chorus and the Twin Ports Choral Project.
Amundson assumes his new role July 1.