Leading inclusivity efforts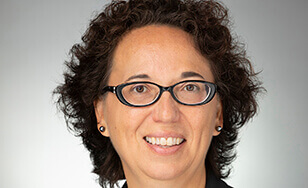 St. Scholastica has appointed a longtime faculty member to lead its diversity and inclusion efforts.
Dr. Amy Bergstrom, currently Associate Professor and Program Director for the Master of Education Degree Program, has been named the College's Chief Diversity Officer. She has held the role in an interim capacity since August 2019.
"I am really excited for this new leadership opportunity," Bergstrom said. "The St. Scholastica faculty, staff and students are a dynamic group, and I am honored and humbled to have been selected to serve in this new capacity. Inclusive excellence is vital to who we are as a community, and I look forward to leading these efforts."
Bergstrom has been with St. Scholastica since 2010. She holds a Doctor of Education from the University of Minnesota, a Master of Education and Graduate Certificate from Harvard University, and a Bachelor of Applied Arts degree from the University of Minnesota Duluth. She is a member of the Red Lake Band of Ojibwe.
In her new role, Bergstrom will be responsible for leading St. Scholastica's Inclusive Excellence Plan implementation, and working collaboratively with Academic Affairs, Student Affairs and Human Resources in leading the College's diversity and inclusion efforts and achieving its inclusive excellence goals. She will report to President Barbara McDonald. Her start date in the Chief Diversity Officer role is May 11.
St. Scholastica is a 108-year-old private, independent college in Catholic Benedictine  tradition. It is nationally recognized for quality and value. It has been named the top Minnesota college for economic mobility, and U.S. News & World Report includes it on its Best National Universities and Top Performers on Social Mobility lists. The College is ranked on Money magazine's "Best Colleges for your Money" list, Princeton Review's 2020 list of Best Midwestern Colleges, and Forbes' Top Colleges list. The Center for First-Generation Student Success has named St. Scholastica one of the top 80 colleges in the country for commitment to first-generation students. Learn more at css.edu.