July 2, 2020
LaJeunesse debuts another public mural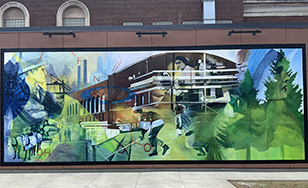 St. Scholastica Assistant Professor of Art Paul LaJeunesse has created a public mural celebrating the history of the community of Virginia, MN.
The mural was commissioned by St. Louis County for the newly constructed Government Services Center in Virginia. It highlights the history of the Northland Building, which previously housed government services and has been torn down. The mural project was facilitated in part by Forecast Public Art as part of a larger goal of integrating art into the new facility.
The mural is a collage about Virginia's history, LaJeunesse said, featuring images of ironworkers, miners and loggers. It also highlights the eclectic history of the Northland Building, formerly the Virginia Recreation Center. It was built in 1923 as a curling and hockey facility, and became a shirt factory in 1947. According to local reports, the shirt factory was one of the area's largest employers of women at a time when it was difficult for them to find full-time work on the Iron Range.
To incorporate all of the elements of the building's history, LaJeunesse included images of boys playing hockey, a curling target, and two women sewing. The mural also pays tribute to the area's natural resources.
"On the far right are spruce trees and a woman's face, alluding to the reverence for the Northland's woods, Mother Nature and caring for the land," LaJeunesse said.
LaJeunesse is also the Duluth Art Institute's first-ever Artist-in-Residence, and as part of this role he created a mural in Duluth's Lincoln Park neighborhood, celebrating the district's craft workers.
LaJeunesse joined the St. Scholastica faculty in 2015 and teaches a variety of art classes, from introductory to advanced levels.