April 14, 2020
Join us for a mini-retreat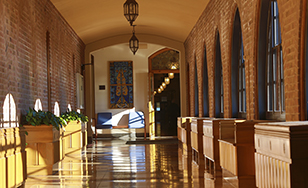 Pax!
Good morning, Saints.
As we begin our fourth week of this new reality, we may have many and varied emotions, times of struggle and times of grace. It is in that spirit, during these uncertain times, that I humbly invite you to participate in a mini online retreat focused on our value of the year, Respect. Initially scheduled for March, this annual Feast of St. Benedict online retreat, rescheduled for April 14-17, has been revised in light of the challenging times we are living in. You can choose to participate in whatever parts of the mini retreat suit your needs.
How do we practice respect while engaging the familial, social, cultural, faith, political and economic realities of our time? This is an opportunity for you to take a few minutes out of your day to pause, reflect and connect with the Saints community. Each day includes a discussion/journal prompt, short video and a reading to guide you in taking a moment to reflect on your relationships with others and yourself. The provided readings are selected from two books: Tattoos on the Heart and Radical Spirit: 12 Ways to Live a Free and Authentic Life.
Undergraduate and graduate students, alumni, staff and faculty are all welcome and encouraged to participate together to better learn from one another about respect. To register for this April 14-17 mini retreat, please complete this form. If you have any questions, do not hesitate to contact me.
And please remember to be gentle with yourself and kind to one another.
Many blessings,
Sister Kathleen