October 24, 2018
Jazz band, vocal group offer a century of musical styles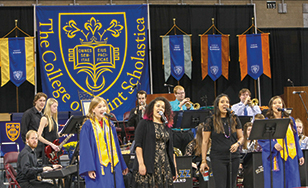 St. Scholastica's Jazz Band and Vocal Revolution ensemble will perform a program of great instrumental and vocal music from the 1920s to today.
The concert, "Horns and Voices: A Century of Popular Music" will be at 3 p.m. Sunday, Nov. 11, in the Mitchell Auditorium. Admission is $5.
Tastes in popular music have changed significantly over the past century, but enthusiasm for music from the past has endured. The Jazz Band and Vocal Revolution will present musical styles that have survived the test of time, including blues, swing, gospel and rock.