Instructor to examine the "you" of poetry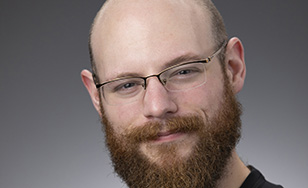 When poets through the years have written poems and sonnets addressed to "you," who did they mean? An upcoming talk by a poet and St. Scholastica English instructor will examine that question.
Brady Kamphenkel will present recently developed poems of his during the next School of Arts and Letters Faculty Colloquium on Valentine's Day, 3:40 p.m. Friday, Feb. 14 in room 3121 of Tower Hall.
The poems will serve as touchstones for an exploration into several poetic craft techniques and concepts – most importantly of all, into "you" – that mysterious person who appears in so many poems. Who are you? Why are you here? What do you mean? With luck, these timeless questions will be at last be definitively answered.
Kamphenkel's 40-minute talk will be followed by a question-and-answer session. The event is free and open to the public. Refreshments will be served.
Now in its 13th year, St. Scholastica's School of Arts and Letters Colloquium is a monthly lecture series highlighting faculty research in the SAL.
St. Scholastica is nationally recognized for quality and value. It has been named the top Minnesota college for economic mobility, and U.S. News & World Report includes it on its Best National Universities and Top Performers on Social Mobility lists. The College is ranked on Money magazine's "Best Colleges for your Money" list, Princeton Review's 2020 list of Best Midwestern Colleges, and Forbes' Top Colleges list. The Center for First-Generation Student Success has named St. Scholastica one of the top 80 colleges in the country for commitment to first-generation students. Learn more at css.edu.