March 13, 2019
In-demand speaker Karen Diver coming to FDLTCC event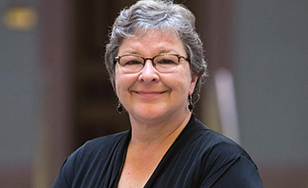 St. Scholastica and Fond du Lac Tribal and Community College are teaming up for an event that will highlight women's leadership roles in indigenous communities.
In honor of Women's History Month and National Social Work Month, Karen Diver will deliver a talk titled "Our Stories Guide Our Work: Indigenous Women's Community Leadership" at 2 p.m. Friday, March 22, in the amphitheater of the Fond du Lac Tribal and Community College, 2101 14th St. in Cloquet. The event is free and open to the public.
Diver is Faculty Fellow for Inclusive Excellence for Native American Affairs at St. Scholastica, where she is engaging faculty, staff and students in a variety of initiatives that emphasize student support, cultural fluency and overall inclusive teaching methods. She gives presentations about the historical and present-day relationships between the tribes and the U.S. federal government and has developed campus resources such as a comprehensive reference guide designed to increase understanding of Native American tribal governments, cultures, and peoples.
Before coming to St. Scholastica, she served the Obama White House as Special Assistant on Native American Affairs from November 2015 to January 2017. As part of the Domestic Policy Council, she assisted with inter-agency efforts and policy and regulatory changes to benefit 567 Native American Tribes. Diver served as chairwoman of the Fond du Lac Band of Lake Superior Chippewa from 2007 to 2015. This elected position serves as chair of the tribal government and CEO of the reservation's corporate boards. The Fond du Lac Reservation is the second-largest employer in northern Minnesota with more than 2,200 employees.
She served as Vice-President of the Minnesota Chippewa Tribe (MCT), comprised of six member Bands, and chaired its Finance Corporation. She also served as a two-term Chair of the Boards of the Minnesota Council of Nonprofits and the Women's Foundation of Minnesota.
She is in demand with indigenous rights groups around the world, speaking and consulting from Canada to New Zealand, from Mexico to Australia.
Diver has a bachelor's in Economics from the University of Minnesota-Duluth, and as a 2002 Bush Leadership Fellow, she received a Master in Public Administration from the Kennedy School of Government at Harvard University.