October 14, 2019
Hollywood meets Duluth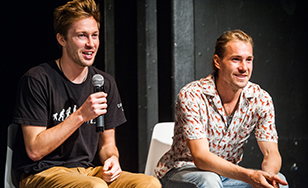 St. Scholastica students were in the thick of the action when Hollywood came to Duluth in early October.
The College is the Educational Partner for the Catalyst Content Festival, held in Duluth Oct. 9-13. The event brought more than 100 television executives and agents along with an estimated 1,000 creative professionals to the Twin Ports to network and screen original productions. The event exposed the participants to what northern Minnesota has to offer as a diverse and scenic filming location. The goal is to create connections with the TV and independent film industry, bring creators to shoot shows in Duluth, create new jobs and put Duluth on the entertainment industry map.
Eighteen St. Scholastica students with an interest in content creation were selected to attend the festival. They enjoyed special access to a variety of screenings, social events, meetings with industry executives and panel discussions, such as an unplanned Q&A with comedy writer and showrunner Caissie St. Onge ("Late Night with David Letterman," "The Rosie O'Donnell Show") and screenwriter/producer Karl Gajdusek ("Stranger Things," "Last Resort"). St. Onge and Gajdusek shared stories and practical tips for succeeding in the entertainment industry.
Dr. Bret Amundson, Dean of the School of Arts and Letters, presented the St. Scholastica Best Young Creator Award during a red carpet awards gala on the closing night of the festival.
Keely Jackson, a senior double-majoring in Communication and Computer Information Systems, said meeting and talking with industry insiders made a career in entertainment seem more realistic.
"The film and TV industry have always fascinated me as a potential career field, but it seemed so elusive and mysterious," she said. "While attending the Catalyst Content Festival I met producers, directors, show runners, actors/actresses, and so many other artists within the industry – they all were extremely encouraging and offered any help they could to start me on my journey. I gained friends and confidence in my dreams; it was an awesome experience!"
"The Catalyst Content Festival was one of the most incredible and motivating experiences of my media-centric life," said junior communications major Charley Hagen. "The lessons learned, connections made, and stories told will have a lasting impact on my life and I cannot wait to experience the festival again one day."
Saints alumni Chris Parr '16 and Harris Dirnberger '17 hosted a Q&A and screening of a new episode from their Amazon Prime Video series, "Off the Cuf." The duo got their start in video while at the College, creating the comedy series "SaintsCenter" for the Sports Information Department. To get "Off the Cuf's" first episodes, they shared how they and two friends embarked on a 45-day road trip to film unique stories in 10 communities around the country. They live in Los Angeles and support their creative pursuits through commercial projects.
Catalyst is expected to have a year-round impact on and presence in Duluth, and St. Scholastica's involvement will continue. The College will host Catalyst's lecture series in 2020.