January 14, 2020
High school students visit for band festival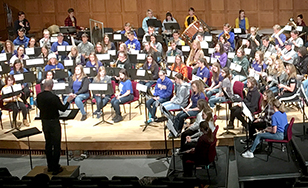 St. Scholastica will host more than 100 students for its fourth annual High School Honor Band Festival on Monday, Jan. 20. Students from 23 schools throughout Minnesota, Wisconsin and Ontario will participate in a day of music instruction before performing a free public concert at 5 p.m. in the Mitchell Auditorium.
St. Scholastica faculty members Dr. Michael Buck, Director of Bands; Music Department Chair Dr. Jeremy Craycraft, and adjunct music professor Charlie Leibfried, will lead the event. St. Scholastica students are directly involved in hosting the high school students,  leading team-building activities and sectional rehearsals, in addition to performing alongside the high school students.
The honor band rehearsals will be led by Buck and Leibfried, while Craycraft will lead the students through rhythm activities and a master class.
There are no fees to participate in the event, and high school students were nominated by their band directors in order to participate.
For more information about the festival, please contact Buck at mbuck@css.edu.