November 19, 2019
Hear from a critically acclaimed novelist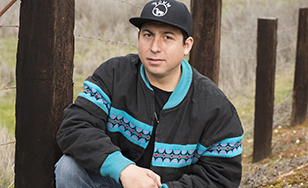 The College will host critically acclaimed novelist Tommy Orange for a free public presentation.
"An Evening with Tommy Orange" will be from 7:30 to 9 p.m. Thursday, Dec. 5, in the Mitchell Auditorium. Orange is the author of the bestselling work of fiction "There There." The event will be an on-stage conversation between Orange and St. Scholastica assistant professor of English Dr. Lupe Linares, and will be followed by a book signing. Books will be available for purchase.
The event is free and open to the public.
"There There" was named one of The New York Times' 10 Best Books of the Year and one of the Best Books of the Year by: The Washington Post, NPR, Time, O, The Oprah Magazine; The Dallas Morning News, GQ, Entertainment Weekly, BuzzFeed, San Francisco Chronicle, and The Boston Globe.
It is a winner of the PEN/Hemingway Award, the National Book Critics Circle John Leonard Prize, and the Center for Fiction First Novel Prize. It was shortlisted for the Andrew Carnegie Medal for Excellence in Fiction. A review from the New York Times calls it "powerful" and "a revelation."
"There There" follows 12 characters from Native communities as they travel to the Big Oakland Powwow. They're all connected in ways they may not yet realize. Jacquie Red Feather is newly sober and working to make it back to the family she left behind. Dene Oxendene is pulling his life back together after his uncle's death, and has come to work at the powwow to honor his memory. Fourteen-year-old Orvil has come to perform traditional dance for the very first time.
Together, this chorus of voices tells of grappling with a complex and painful history, with an inheritance of beauty and spirituality, with communion and sacrifice and heroism. Critics call it an instant classic, at once poignant and laugh-out-loud funny.
All incoming first-year students at St. Scholastica read "There There" this year as part of their Dignitas studies program, a common curriculum that emphasizes human dignity.
Orange is a graduate of the MFA program at the Institute of American Indian Arts. An enrolled member of the Cheyenne and Arapaho Tribes of Oklahoma, he was born and raised in Oakland, CA.