November 12, 2019
Health Information Management forum coming up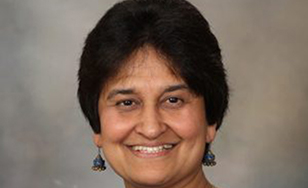 St. Scholastica announces a change to a forum next week on emerging trends and best practices in the electronic health records industry.
Janine Kamath will give a keynote presentation about her perspective on healthcare innovation and leadership at the LaTour Eichenwald Forum on Health Informatics and Information Management Leadership and Innovation on Thursday, Nov. 21. Kamath is chair of the Department of Management, Engineering and Internal Consulting at Mayo Clinic. She replaces previously announced speaker Barbara Spurrier.
The forum begins at 3:30 p.m. Thursday, Nov. 21, with a social in Somers Lounge, in Somers Hall on campus. Kamath's presentation will be from 4 to 5 p.m. A reception will follow her presentation between 5 and 6 p.m.
The forum is named for two of HIM's most highly regarded professionals, Kathleen LaTour and the late Shirley Eichenwald Maki. LaTour and Eichenwald Maki retired in 2012 from The College of St. Scholastica's HIIM Department after a combined seven-plus decades of national leadership in education and in the profession.
About 100 HIM professionals are expected to attend. The talk is free and open to the public, but reservations are preferred.
Kamath joined Mayo in 1993 as a Systems Engineer. Prior to that, she worked as a manager in two large pharmaceutical companies. While at Mayo, she has facilitated and led multiple institutional initiatives related to Mayo's Electronic Environment, Facilities Reintegration, Operations Analysis/Research, Systems Engineering, Care Process Redesign, Business Development, Analytics and Mayo's Quality, Safety and Patient Experience program. She has presented at national and international conferences and educational programs. She has published in peer-reviewed journals and authored book chapters as well as a book on Management Engineering and Consulting at Mayo Clinic.
Kamath is the president of the Association for Internal Management Consultants (AIMC) and a member of the INFORMS Executive Roundtable. She was one of the course directors for the Mayo Clinic Conference on Systems Engineering and Operations Research. She has received multiple awards and commendations and actively participates in several professional and community organizations.