July 24, 2019
Future leader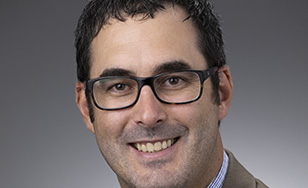 St. Scholastica is pleased to announce that Ryan Sandefer, assistant vice president for academic affairs, is one of 41 administrators in higher education nationwide selected by the Council of Independent Colleges to participate in the 2019-2020 Senior Leadership Academy.
Individuals chosen for the year-long program are leaders in higher education who have been identified by their institutions as having the potential for more senior leadership positions in independent colleges or universities. Dr. Sandefer will participate in the SLA's opening seminar in Baltimore, MD, Nov. 1-3, 2019, and a closing seminar in Washington, DC, June 21-23, 2020. He also will undertake a mentoring program, work with experts, participate in webinars, and engage in a series of readings and case studies during the academic year.
"Dr. Sandefer represents the best of St. Scholastica's values of academic excellence and inclusiveness in the Catholic Benedictine tradition," said Dr. Diane Vertin, interim vice president for academic affairs at St. Scholastica. "We are delighted that he has been selected for this very competitive national program. This is a significant honor for both him and for St. Scholastica."
The Senior Leadership Academy is designed to prepare prospective leaders to assume positions as the chief officers in any division-including academic affairs, student affairs, finance, enrollment management, and advancement-in independent higher education.
"Because the generation of senior leaders now on campus is rapidly approaching retirement, the need for able new leaders is significant," said CIC President Richard Ekman. "Competition for the available places in the program was intense, and the review committee found the nomination materials to be most impressive. They (and I) believe that Dr. Sandefer has the potential for highly effective leadership in a position of senior responsibility on campus."
Sandefer, who is also an associate professor of Health Informatics and Information Management at St. Scholastica, holds a PhD in Health Informatics from The University Of Minnesota-Twin Cities. He also holds a Master of Arts in Political Science from the University of Wyoming and has held multiple elected leadership positions with the American Health Information Management Association.
"I am grateful to be chosen for participation in the Senior Leadership Academy," Sandefer said. "To be considered among the next generation of leaders of America's private colleges and universities is an honor, and I deeply appreciate my nomination by my colleagues at St. Scholastica."
Sixty-one percent of participants in the first Senior Leadership Academy cohort (2010-2011) have advanced in their careers, and 28 percent of all participants in SLA thus far have earned positions that are more advanced. "These indicators suggest that CIC is helping to meet the leadership needs of higher education by offering highly effective leadership development programs for modest fees to member institutions," Ekman said.
The Academy is co-sponsored by CIC, the American Academic Leadership Institute (AALI), and Academic Search, Inc. Linda M. Bleicken, president of AALI, will direct the program. For more information about the Senior Leadership Academy, visit www.cic.edu/SeniorLeadershipAcademy.