Former "Stranger Things" showrunner coming to campus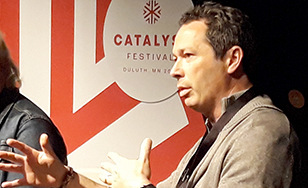 St. Scholastica will host a well-known TV and film industry professional for a talk on what it means to be a "showrunner."
Karl Gajdusek, whose resume includes "Stranger Things" and "Riverview," will present "Showrunner: A Look Inside TV's Most Powerful and Mysterious Role" at 7 p.m. Tuesday, Feb. 25, in the Mitchell Auditorium on campus. The event is part of St. Scholastica's partnership with the Catalyst Content Festival.
Gajdusek is a writer, producer, playwright, and executive producer. He will provide an in-depth presentation about the job of being a "showrunner." He'll go over the three main phases of creating a TV show, the unique skill set required to be a showrunner, and how independent content creators can connect with showrunners and producers to advance their own projects.
The event is free for anyone with a St. Scholastica ID and for Catalyst Storieroad registrants (see more info at catalystcontent.org/storieroad). Admission is $5 for other area students and faculty with school ID. Regular tickets are $10. Parking is free.
Gajdusek's current projects include the upcoming Fox/Disney period action comedy spy film "The King's Man," which will star Ralph Fiennes. He also wrote the screenplays for the forthcoming sci-fi feature "Courage," and "The Last Days of American Crime," which is now in post-production.
His television work includes serving as executive producer of season 1 of Netflix' "Stranger Things;" creator and showrunner of ABC's "Last Resort" with Shawn Ryan; and "Riverview" with Daren Aronofsky at HBO.
Previous credits include the Tom Cruise film "Oblivion," the Pierce Brosnan thriller "The November Man," and the Nicole Kidman and Nicholas Cage crime thriller "Trespass." He served as story editor for the Showtime show "Dead Like Me," and co-wrote "Blood Brother" at Lionsgate.
Before establishing himself in TV and film, Gajdusek was a playwright whose plays have been produced in New York and across the country. They include "Greedy," "Fair Game," "Silverlake," "Malibu" and "Waco, Texas, Mon Amour." He has a BA from Yale University and an MFA in playwriting from the University of California at San Diego.
The lecture series is part of the Catalyst Content Festival, which came to Duluth last  October. The event showcases independently produced TV shows and podcasts to industry executives, agents, and producers. St. Scholastica is the educational sponsor for the event, and is hosting a lecture series providing a professional overview of today's scripted and unscripted television content industry. The talks are tailored for anyone interested in a creative or business career in television. The next event will be on March 31.
St. Scholastica is a 108-year-old private, independent college in Catholic Benedictine tradition. It has been named the top Minnesota college for economic mobility, and U.S. News & World Report includes it on its Best National Universities and Top Performers on Social Mobility lists. The College is ranked on Money magazine's "Best Colleges for your Money" list, Princeton Review's 2020 list of Best Midwestern Colleges, and Forbes' Top Colleges list. The Center for First-Generation Student Success has named St. Scholastica one of the top 80 colleges in the country for commitment to first-generation students. Learn more at css.edu.