January 31, 2022
Finding life's purpose in literature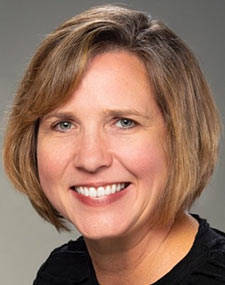 Dr. Stephanie Johnson serves as associate professor and chair of the College's English department, and she is also director of the Honors Program. Since her own undergraduate experience at St. Olaf, Johnson has been engaging in conversations about vocation, or purposeful living, but one conversation has had an especially meaningful impact.
It happened during the Teaching Vocational Exploration seminar hosted by the Network for Vocation in Undergraduate Education (NetVUE) in June 2017. Earlier that year, Johnson had been nominated and accepted into the program which brought together faculty members from across the country in conversation about vocational exploration and discernment.
Johnson described the seminar as a wonderful five-day experience. "We spent time getting to know each other while focusing on how to bring ideas back to our campuses and support initiatives for teaching vocation; what could we do to affect areas in which we had some leverage and voice?"
These conversations led to an important realization. As an emerging field, vocation scholarship has strong contributions from theologians and historians, but there weren't any literary scholars involved in publishing these works. Johnson saw that as a deficit and was compelled to take action.
Understanding our multiple callings in the world
"Two of us from the cohort, Erin VanLaningham and I, jumped on the opportunity to pitch a collection of essays that would bridge literary studies with the emerging field of vocation scholarship," she said. They put out a call for papers and had several great contributors, five of whom had been participants in their same NetVUE seminar. Their proposal was a success, and nearly two and half years later, Johnson and VanLaninham's essay collection, Cultivating Vocation in Literary Studies, will be published in January.
The book will serve a broad audience: educators who are seeking to connect literary studies with vocation exploration and purpose, including faculty in English and literature; career services and advisement staff; and K-12 educators. "It's primarily for folks who are, for whatever reason, involved in thinking about literature and its potential impact on students as they discern their multiple callings."
In addition to co-editing the volume, Johnson was also a contributor, writing the chapter "Poetry's Lyric Call." Through her examination of four poems, Johnson argues that readers must be attentive, closer readers of poetry because "when we do that, poems have something to say to us about understanding our multiple callings in the world." The resulting impact on students is profound; close reading of poetry allows them to see the potential in their lives and their multiplicity of commitments, opportunities, callings and meanings.
While Johnson acknowledged she doesn't often use the word vocation in her own classes, the concept is naturally integrated into her teaching. In the gateway course for the English major, which she regularly teaches, she encourages her students to consider what it means to study English, but just as importantly, to reflect on the ways in which it shapes their lives and responsibilities including family relationships, community and commitments to faith communities.
Johnson also uses poetry to prompt her students into thinking about what's next. "I want them to recognize the possibilities in their lives and the multiple ways in which they will be meaningful, which doesn't mean just what jobs they will do but all sorts of vocational commitments."
Johnson and VanLaninham's volume is available to order through Edinburgh University Press.