Film scholar releases book on 'The Cinematic Sublime'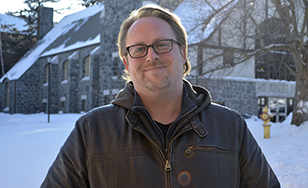 St. Scholastica film scholar Nathan Carroll, PhD is the editor of the newly published book "The Cinematic Sublime," an interdisciplinary exploration bringing together the disciplines of film studies and aesthetics to examine cinema and cinematic experience.
Dr. Carroll is a professor in the Department of Communication, Theatre and Art at St. Scholastica, where he teaches courses in film studies, media criticism, and sublime aesthetics.The book's essays are written by film scholars and philosophers from around the world, including Carroll and fellow St. Scholastica faculty member Steven Ostovich, PhD, professor emeritus and former chair of the Department of Philosophy. The topics and case studies range from early silent films through classical Hollywood to avant-garde and contemporary digital cinema.
"The word 'sublime' is often used as shorthand for 'cool' or in today's parlance, 'awesome,' while in the past it signified a singular experience fostering existential introspection," Carroll said. "Really, the concept is a cultural marker that has always shifted with time. This book applies a cinematic lens to what is 'sublime.' This approach offers new insights into how cinema engages with traditional historical and aesthetic discourse. It will be of use to students and established scholars interested in the relationship between film and philosophy."
"The Cinematic Sublime: Negative Pleasures, Structuring Absences" is published by Intellect Books of Bristol, England.
The College of St. Scholastica is a 109-year-old private, independent college founded in the Catholic Benedictine tradition. It is nationally recognized for quality and value. It has been named the top Minnesota college for economic mobility, and U.S. News & World Report includes it on its Best National Universities and Top Performers on Social Mobility lists. The College is ranked on Money magazine's "Best Colleges for your Money" list, Princeton Review's 2020 list of Best Midwestern Colleges, and Forbes' Top Colleges list. The Center for First-Generation Student Success has named St. Scholastica one of the top 80 colleges in the country for commitment to first-generation students. Learn more at css.edu.