April 3, 2019
Deep reflections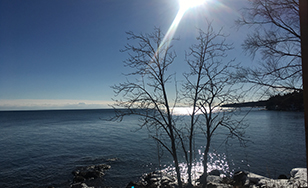 Amid the noise of a busy career, many professionals find it hard to make time for contemplating the Big Questions: who am I? what gifts can I bring to the world? what do I need to feel whole?
The College's MBA in Leadership and Change program is offering a remedy.
Students gathered for a four-day retreat last February to search for answers to those questions. It was a three-credit Organization Development course that its alumni describe as "life-changing."
"I now feel greater purpose in life, a greater connection with my loved ones due to conversations I've had since this retreat, and I feel more aware of my own personal well being and wholeness," said Meghann Whiting, an operations manager at Essentia Health who is completing the MBA program in December. The retreat brought new insight into emotional burdens she hadn't even realized she was carrying, she said.
The course, which is being offered again in the Spring 2019 semester, is called Wholeness, OD and Everything. It explores the ethical responsibilities of organizational leaders seeking to implement change. Based on the theory that leaders who aren't in touch with themselves can't effectively lead others, participants are gently guided on a reflective journey toward self-awareness and "wholeness."
"It's about what it means to be whole as an individual, as a group of individuals, or an organization," said instructor Alla Heorhiadi.
Though classwork lasts from about 8 a.m. to 5 p.m. each day, discussions continue well into the evening. The retreat format creates an immersive learning community of like-minded peers, all eager to discuss the concepts of the course.
"People continuously think; there's a lot of time for reflection," Heorhiadi said. "That's where the breakthrough happens."
Heorhiadi brings her own unique viewpoint to the conversation. Always fascinated by how systems work and interact, she has a bachelor's degree in engineering and doctorates in Economics and Organization Development. Her career has spanned many disciplines including economics, management, organizational change, and conflict resolution. "I have a variety of experiences that allow me to see familiar things from different perspectives."
For instance, she suggests that any organizational change should be treated like a death. When dealing with a large-scale change at work, people tend to move on before they are truly ready instead of taking due time to process it – a grieving period of sorts.
"In our society, people are afraid to talk about death," she said. "Death is important, especially for this program that teaches organizational development and change. If you're going to introduce change, something will cease to exist. It creates an impact on people."
Kristina Gaalaas said the retreat was "incredibly moving" and inspired deep reflection on the impact of losses she'd experienced, including the death of her mother and a job loss.
"If death is the answer, then what is the question?" said Gaalaas, a financial planner with Edward Jones who expects to graduate in May 2019. "As a leader, it is important for us to look within and not be afraid of the questions or the answers that we find."
Deep conversations on topics like this have a meaningful impact, Heorhiadi said. She has seen people resolve to change jobs or even file for divorce after completing the course.
Kristine Janiksela, an MBA student who works for Major Projects at Enbridge Energy, said the experience was "life-changing."
"It allowed me to see wholeness from a new perspective," she said. "I recommend that course to everyone I can."
Stacy Lysne, who graduated in May 2018, credits Heorhiadi for the course's power.
"Alla is committed to every person that walks into the room," Lysne said. "I feel blessed to have been in her presence."
Josh Goutermont, manager of Employee/Labor Relations at ALLETE/Minnesota Power, will graduate from the MBA program in December. He described the class as the most meaningful one he's ever taken.
"For the first time in my life, I felt guided to explore my deep inner person, my foundations, my beliefs and confront fears or anxiety that I didn't even know I had," he said.
More information is available at: css.edu/MBA