March 5, 2018
Day at the Capitol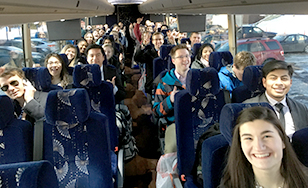 About 50 students from St. Scholastica traveled to St. Paul in late February to meet with state lawmakers and advocate for the Minnesota State Grant program.
More than one-third of St. Scholastica undergraduate students receive a State Grant, with an average award of more than $3,000. The program helps students of modest financial resources gain access to private and public higher education.
Day at the Capitol attendees had the opportunity to hear from St. Scholastica alum Megan Hennen, a member of the House higher education staff, about her experiences after graduation. Higher Education Committee Chair Bud Nornes spoke to the group about current higher ed concerns at the legislature.
St. Scholastica's advocacy effort is one of the strongest among Minnesota's private colleges. The meeting with state legislators was organized by the St. Scholastica Student Senate and the College's Foundation and Government Relations department, and was part
of the College's Community Day volunteer event. The group's early-morning sendoff was covered by WDIO-TV Channel 10 and KBJR-TV Channel 6.