March 2, 2020
Concert to feature original compositions exploring "survival"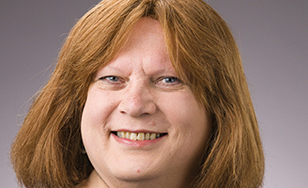 THIS EVENT HAS BEEN CANCELED.
A concert at St. Scholastica will feature two original compositions and a theme of hope.
"Survivor Songs," at 3 p.m. Sunday, March 22, in Tower Hall room 3625,  will feature award-winning composer and musician Mina Kaiser and friends as they present two original compositions: a song cycle based on Mark Twain's "Letters from the Earth," and the premiere of "Survivor Songs" with texts exploring the survival of physical and sexual abuse. Other selections will relate to living with and surviving cancer.
The program will also feature classical guitar pieces by composers including Sor, Aguado, Coste and others.
Kaiser is an adjunct music instructor at St. Scholastica. A multi-instrumentalist, she will play the guitar for this event. She said she chose these works as a form of occupational therapy after a skin graft in the fall of 2017.
"I was told there was a slight chance that I wouldn't be able to play again due to the nerves affected," Kaiser said. "So, I put together some pieces to play to rebuild my abilities."
Kaiser composed the "Letters from the Earth" piece for baritone and guitar in the early '90s. "Survivor Songs" is a new work inspired by the #MeToo movement, Kaiser said. She scored it for soprano, horn, marimba and guitar, in part so that she could perform it with some friends.
"Each song in the set addresses experiences of violence, rape and abuse," Kaiser said. "So many women, people of color and those who are part of the LGBTQ+ community are subject to these crimes and instead of receiving justice are blamed and shamed by those that should protect them."
The songs are meant to bring a message of hope, Kaiser said. The concert was originally scheduled to be in January, but was postponed due to a winter storm.
Tickets are $10. For more information, contact the Spotlight Box Office at 218-723-7000 or spotlight@css.edu.