February 5, 2019
Concert explores history, culture, music, religion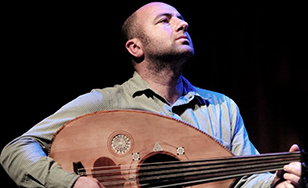 St. Scholastica will host a musical performance that illuminates the complex history and intersectionality of the Judaic, Christian and Islamic faiths.
"Land of Three Faiths: Voices of Ancient Mediterranean Jews, Christians, and Muslims" is set for 2 p.m. Sunday, Feb. 17, and will highlight the Hispano-Arabic Middle Ages as both an important and devastating chapter of Judaic, Christian and Islamic history. The result of years of research and training, this engaging program steeps its audience in the rich history of the intertwined Abrahamic faiths. All are welcome and admission is free.
The "land" in the title refers mainly to the Iberian Peninsula (modern Spain and Portugal) and to a period during the 12-13th centuries when the three faiths cohabited the region in peace. This harmony gradually disintegrated over the next three centuries, with the expulsion of both Jews and Muslims. The program also includes music from North Africa (Morocco), Turkey, and the Balkans.
The program will be headlined by The Rose Ensemble, a musical group that unites virtuosic vocal artistry with scholarly research to create musical performances and educational programs that connect audiences to compelling stories of human history, culture, and spirituality from around the world. They will be joined by special guests American-Uruguayan soprano Nell Snaidas and Jerusalem-born Palestinian multi-instrumentalist Zafer Tawil.
The concert features music at once sacred, secular, traditional, and classical, embarking on a journey of language, spirituality, and cultural exchange. Using instruments and musical ideas that blur the lines between Arabic and European, the program is steeped in the rich history of the Abrahamic faiths, achieving a balance of edgy improvisation, exotic vocal styles, and ancient traditions.
The performance will be followed by a discussion on the musical, cultural, religious and historical context of the musicians' artistry, moderated by Minnesota Public Radio host Mindy Ratner.
The Rose Ensemble was founded and is led by St. Scholastica alumnus Jordan Sramek, who studied early vocal performance and harpsichord, and was recently awarded a Doctor of Humane Letters by the College.
This event is open to the public, free of charge. It is being sponsored by the Oreck-Alpern Interreligious Forum, The College of St. Scholastica Music Department, Braegelman Program in Catholic Studies, Alworth Center for Peace and Justice, School of Arts and Letters, The Center for Spirituality and Enrichment/St. Scholastica Monastery, and MPR.