April 16, 2019
Concert Band and Jazz Ensemble present "Eastern Winds"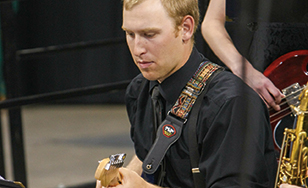 St. Scholastica's Concert Band and Jazz Ensemble will team up for their final concert of the year with "Eastern Winds" at 2 p.m. Sunday, April 28, in the Mitchell Auditorium on campus.
Exploring both tonal and cultural influences of Eastern music, the concert will feature major works of the wind band and jazz repertoire. The program will include folk songs with programmatic elements, melodic transformations, themes with variations and exotic percussion sonorities.
Tickets are $5 and can be purchased at the door or in advance through the Spotlight Box Office at spotlight@css.edu or at 218-723-7000.
The 2018-19 season's final Music Department concert of the year is "Music for a Festival" featuring the String and Chamber Ensembles, at 7:30 p.m. April 30.