December 5, 2018
Commencement coming up Dec. 15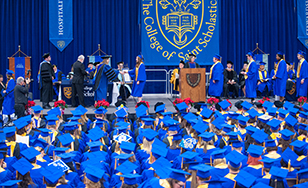 St. Scholastica will celebrate its Fall 2018 commencement at noon Saturday, Dec. 15 in the Reif Gymnasium on campus.
There are 664 candidates for graduation, including 399 undergraduate students and 265 graduate students. More than 250 students are expected to participate in the ceremony.
Among undergraduates, the most popular majors are Nursing, Social Work and Management. The top degrees for graduate students are the Master of Business Administration, Doctorate of Physical Therapy and Master of Science in Health Information Management.
The commencement speaker will be Alan Hodnik, chairman, president and CEO of Allete, Inc. which is the parent of Minnesota Power, Superior Water Light & Power, Allete Clean Energy, US Water Services and BNI Energy.
Diane Vertin, interim Vice President for Academic Affairs, will serve as Master of Ceremonies. Graduating MBA student Judith Crespo Melendez will provide the student address.
The Duluth Scottish Heritage Pipers, David Bouschor and David Vosen, will play a processional and recessional. Musical selections will include "Miziiweykaamikiinaang – Honor Song" by the American Indian Drum Group Wolf Clan; "America the Beautiful" featuring alum and vocalist Bianca Aspin with piano accompaniment by alumna Emily Valine, and "I've Got You Under My Skin" performed by student vocalist Lucas Masterson with accompaniment from Valine.
Students are invited to take part in a Baccalaureate Mass at 9 a.m. in Our Lady Queen of Peace Chapel, as well as a brunch before the ceremony at 10 a.m. in Somers Lounge. A reception will be held immediately after the ceremony in Storm's Den on the ground floor of Tower Hall. The ceremony is expected to last about two hours.