March 14, 2019
College to host Zenith City Sings choir festival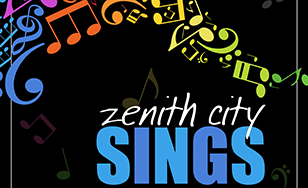 St. Scholastica will host high school choirs from around the Twin Ports during the Zenith City Sings choir festival, from 7:30 p.m. to 9:30 p.m. Thursday, March 21 in the Mitchell Auditorium on campus.
With the goal of celebrating young talent and honoring choral traditions of the community, the festival will feature more than 200 singers. The participating school choirs are from Superior High School, Duluth Marshall School and Duluth East High School, joined on stage by St. Scholastica's choirs: Bella Voce, Concert Choir, Vox Anima and Cantus.
Each high school's choir will have its own performance set, and all the groups will combine to perform as well.
"We are celebrating the vibrancy of singing occurring throughout our community by coming together in song," said Dr. Sarah Ludwig, director of choral activities at St. Scholastica. "The College of St. Scholastica is proud to host this festival for the first time and looks forward to its recurrence as an annual staple in our performance calendar."
Tickets are $5 and may be purchased in advance through the Spotlight Box Office at spotlight@css.edu or 218-723-7000, or at the door.
The rest of the 2019 Music Department concert schedule includes:
Bring the Sing choir-led community sing-along, 10 a.m. March 23
Graced by Groove percussion ensemble concert, 7:30 p.m. March 30
Vocal Revolution: Voices Only a cappella concert, 3 p.m. April 14
For Most this Amazing Day choir concert, 7:30 p.m. April 26
Eastern Winds band concert, 2 p.m. April 28
Music for a Festival string and chamber ensemble, 7:30 p.m. April 30