March 7, 2018
College to Host Rose Ensemble for Benedictine-themed Concert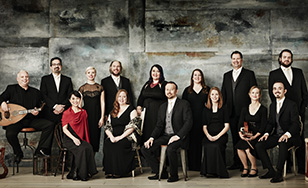 St. Scholastica will host the internationally renowned choral group the Rose Ensemble for a program called "Welcome the Stranger: The Promise of Saint Benedict and Saint Scholastica."
The ensemble, based in St. Paul, will perform at 7:30 p.m. Monday, March 19, in the Mitchell Auditorium on campus. Tickets are $20 for adults, $5 for students with ID, and free for children 12 and under.
"Welcome the Stranger" is especially relevant to The College of St. Scholastica, as "it's about Benedict's commitment to the Christian mission of welcoming people as if they were Christ," said Dr. Tammy Ostrander, Dean of the School of Arts and Letters at The College of St. Scholastica. The College of St. Scholastica was founded in 1912 by the Catholic Benedictine Sisters of St. Scholastica Monastery in Duluth. Though it is independent today, the Sisters remain its sponsors.
The performance will be set in the year 1618 as a mythical gathering of Milanese Benedictines is about to take place. The music will range from virtuosic compositions by local nuns to medieval plainchant to Renaissance motets of the Cassinese monks of Saint Simpliciano. A highlight of the program will be a new work in memory of one of the Duluth Benedictine Sisters, receiving its world premiere.
Jordan Sramek, artistic director of the Rose Ensemble, was a student at St. Scholastica, where he met Sister Monica Laughlin, a longtime music faculty member who became his mentor and friend. In memory of her he commissioned a work by St. Paul composer Abbie Betinis called "O Iam Migra." Betinis has worked with Cantus, the St. Olaf College Choir, the Dale Warland Singers and James Sewell Ballet. A two-time McKnight Artist Fellow, she is listed in NPR Music's 100 Composers Under 40.
Sramek writes in the concert's program that The Rule of St. Benedict "instructs followers to (among many things) 'welcome the stranger as Christ himself.' The Rule still guides the Benedictine way of life and worship… and its influence can be identified in innumerable Christian practices and beliefs. Simply put, the Rule of St. Benedict is a set of guidelines that has the potential to benefit all of humanity, by instructing us to be kind to each other, to love our enemies, and to acknowledge the divine within each person we meet."