March 5, 2018
College to Host MPR's "Bring the Sing"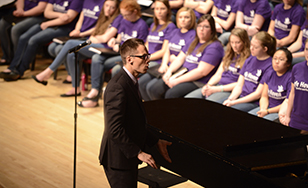 St. Scholastica will host Minnesota Public Radio's "Bring the Sing" event from 10 a.m. to 1 p.m. Saturday, March 24 in the Mitchell Auditorium on campus.
MPR's website describes the event as "part choral workshop, part recording session."
Participants are encouraged to register prior to the event at classicalmpr.org. Registrants receive their music packet by mail or can pick it up at the Duluth Whole Foods Co-op. They can practice on their own and come to campus ready to work with the St. Scholastica choirs and conductors, including Dr. Bret Amundson, director of Choral Activities, and Dr. Sarah Ludwig, assistant director of Choral Activities. Music packets can also be picked up at the event. After a morning workshop, MPR will record the afternoon performance and air it on the radio a few weeks later.
"The goal is to bring communities together to sing," Amundson said. "This is for people of all abilities and skills who love to sing but don't necessarily have the opportunity to sing in a group."
About 400 people participated last year, Amundson said.
Seating is on a first-come, first-served basis, and tickets will be available at the door. The cost is $5. Participants must fill out a media release form.
This is the third year the event has been hosted by St. Scholastica, the institutional sponsor of Minnesota Public Radio in Duluth.