May 10, 2019
College to host 7th annual SEAM conference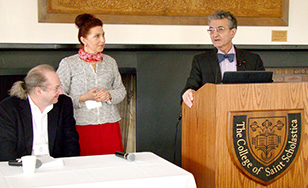 St. Scholastica will host the 7th annual U.S. conference on the Socio-Economic Approach to Management (SEAM) on May 16-17.
The program, "Leadership Today: Challenges and Innovative Approaches," will focus on leadership and will include presentations on the theory and practice of SEAM, comparison to other management theories, and case studies.
SEAM was developed over 40 years ago in Lyon, France by Henri Savall and his colleagues. SEAM is based upon the principle that poor employee productivity is largely due to how employees are managed. St. Scholastica is one of only a few colleges in the U.S. that teaches about this management approach. The College offers a study abroad opportunity about SEAM in Lyon for graduate business students.
Sessions will be in Burns Wellness Commons Room 249 on campus. The conference is $80 for one day or $150 for both days, and includes breakfast, lunch and a snack each day.
The conference presenters will include founder Henri Savall and members of the Institut de socio-economié des enterprises et des organisations (ISEOR), as well as leaders in the SEAM field in the United States, including several St. Scholastica faculty members.
The conference is being co-sponsored by St. Scholastica and the The SEAM Institute in collaboration with ISEOR in Lyon, France.