July 17, 2018
College offers graduate Special Education licensure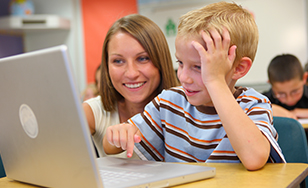 St. Scholastica is offering a new option for current teachers who are interested in branching into special education.
Starting in the spring of 2019, St. Scholastica is launching an online Graduate Special Education Licensure Program. This pathway allows working teachers to earn their Minnesota Academic and Behavioral Strategist (K-12) license while working towards a Master of Science degree. Applications are now being accepted. For more information, visit css.edu/sped.
Program coordinators say it will help to promote accessibility in K-12 classrooms.
"St. Scholastica and the School of Education believe strongly in the promise of an inclusive educational environment," said Chery Lucarelli, PhD, Graduate Education Program chair. "This program fully supports that ideal, and it will better inform our work with all of our K-12 pre-service programs."
Amy Murzyn, Ed. D., assistant professor of Education, said the program will provide teachers with the education and training necessary to support academically and behaviorally diverse students in a wide range of classroom settings.
"Teachers that complete this program increase their knowledge of exceptionalities, enhancing their ability to meet the unique academic, social and behavioral needs of their students."
Lucarelli agreed that the program puts the students' needs first.
"Most importantly, the program was developed to keep children at the center and to think about what is most needed to meet their needs in order for them to meet their full potential," Lucarelli said.
Lucarelli said that the program's fully online format will allow for special education teachers to network with peers from around the state and beyond.
"In addition, we have developed an innovative, engaging program so that even though you are working online, you are not working alone," she said. "There is a special emphasis on creating a learning community. Students will go through the program using a cohort model so that they can learn from each other as well."
The program will fill a need in K-12 education, Murzyn said.
"There is a critical shortage of special education teachers nationwide," she said. "Many districts in the state and region are unable to fill vacancies with licensed special education teachers, or any teacher. Our online program will remove barriers of time and location for those seeking to add a special education license in the region and beyond."
Program participants have the option to take additional credits to earn a Master of Science in Teaching.