September 13, 2019
College Compact membership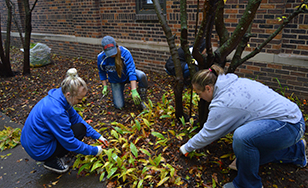 St. Scholastica has joined Iowa & Minnesota Campus Compact, an organization dedicated to enhancing civic engagement and service-learning opportunities for students at member colleges.
St. Scholastica becomes the newest member of Iowa & Minnesota Campus Compact's coalition of 58 colleges and universities, which represents presidents from every sector of higher education.
"St. Scholastica is thrilled to be engaged with Campus Compact," said St. Scholastica President Dr. Barbara McDonald, who has also joined the organization's board of directors. "The Compact's mission of service-learning and civic engagement aligns well with our values, and will provide opportunities for our students to contribute to the common good through their service."
Iowa Campus Compact Executive Director Emily Shields said she is excited about the possibilities of this new partnership.
"The College of St. Scholastica has a rich tradition of preparing students for life's purpose and we look forward to supporting those efforts," Shields said.
Iowa & Minnesota Campus Compact strengthens the capacity of colleges and universities to fulfill the public purposes of higher education through its network of campuses. This includes educating students through community and civic learning experiences and making an impact in communities through reciprocal partnerships that address community-identified goals. The organization creates partnership opportunities, supports quality programming through professional development, and promotes the importance of the civic mission. For more Minnesota information visit mncampuscompact.org.