May 24, 2018
College announces faculty and staff award winners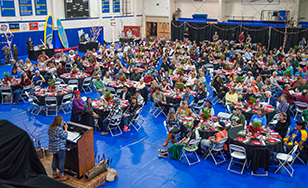 St. Scholastica faculty and staff members closed out the academic year by honoring outstanding achievements during an appreciation luncheon.
Denise Starkey, PhD, associate professor of Theology and Religious Studies, received the Max H. Lavine award. The highest award for teaching excellence at the College, the Lavine Award is given annually to a faculty member who demonstrates a commitment to furthering the mission of the College through value-oriented teaching in the Benedictine tradition.
Zach Via, PhD, assistant professor of Chemistry, received the Tassie McNamara Award. The highest honor presented by the student body to a faculty or staff member, this award recognizes those who exemplify the spirit of St. Benedict through teaching or working at the College.
Kathy Modin, M.A., assistant professor and interim chair of the Management Department, was the recipient of the Equal Access Award. This award recognizes faculty who exhibit exemplary effort to engage students with disabilities in academic and interpersonal growth and development.
Elliott Johnston, director of Residential Life, and Ryan Sandefer, PhD, assistant professor and chair of the Health Informatics and Information Department, were given the Excellence in Service to the College award. This award recognizes outstanding service to the College, including both ad hoc and formal activities.
Merry Vaughan, PhD, associate professor and chair of the Communication, Theater and Art Department, won the Excellence Award for Service to the Community. This award recognizes important contributions to the community through service work that is reflective of the College's mission.
Tammy Ostrander, PhD, professor and Dean of the School of Arts and Letters, received the Excellence Award for Scholarly and Creative Activity. This award goes to a faculty member whose exceptional merit in scholarly and creative activity provides a worthy example to peers.
Keith Haugen, Manager of the Mailroom/Receiving Department, won the Excellence Award for Living Our Values. This award recognizes excellence of faculty and staff who support and further the College's mission of preparing students for responsible living and meaningful work by exemplifying the Benedictine values in their work at the College.
SueAnne Mattson, M.A., assistant professor, Traditional Undergraduate Nursing, received the award for Excellence in Advising and Mentoring of colleagues. This award recognizes and affirms the significant role of staff and faculty advising and mentoring in forming the minds and shaping the lives of their co-workers.
Brad Snelling, M.A., librarian, St. Scholastica Library, won the Inclusive Excellence award. This award is given to a College individual, team, department or school who advanced equity, diversity and inclusion through dedication and exemplary leadership in providing services for diverse populations, fostering an inclusive environment inside/outside of the classroom and/or addressing equity.
The Vivat Volunteer Award for the department with the most volunteer hours served went to the Communication, Theater and Art Department.