April 25, 2018
Choral concert will feature video component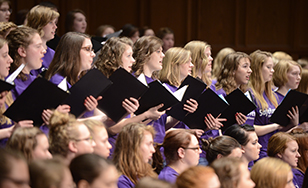 St. Scholastica's Concert Choir, Bella Voce women's choir, Men's Choir and Women's Choir will sing in their final performance of the season at 7:30 p.m. Friday, April 27 in the Mitchell Auditorium.
The program will combine visual art with the performing arts by featuring videography by Assistant Professor of Art Paul LaJeunesse. The piece will capture the "elements" and uniqueness of the Duluthian landscape.
Admission is $5 and free for students. This performance is general admission, with first-come, first served seating. For more information, visit spotlight.css.edu or call 218-723-7000.